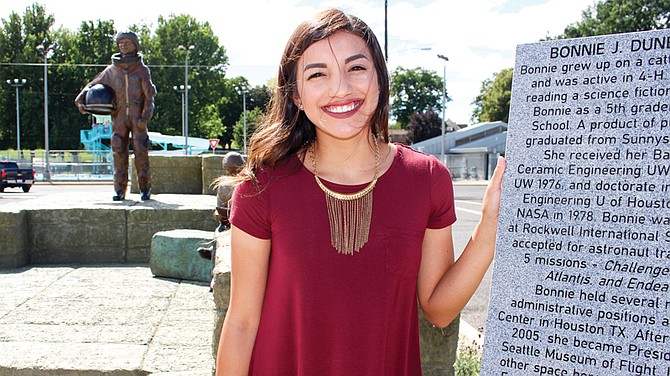 SUNNYSIDE — If selected as the next Miss Sunnyside, one candidate will promote Special Olympics as her community service project.
Samantha Gonzalez, 16, has worked with the local Special Olympics program for the past several years.
"I think it is amazing how it makes the athletes feel when they are allowed to compete," she said.
Equally amazing, she discovered, is how it makes her feel to be helping out at the annual track and field event.
"I found I want to do more to work with the individuals who participate in the track and field events," Gonzalez said. "I want to help the community know more about Special Olympics."
Gonzalez chose Special Olympics after deciding she wanted to compete for the community ambassador crown.
"I feel being Miss Sunnyside is a great way to be a student ambassador and to make people more aware of what goes on in our community," she said.
Plus, she said, improving her communication skills is another reason for becoming involved in the program.
"I'll be meeting new people, and building my communication skills," she said.
A Sunnyside High School cheerleader, she also plays doubles tennis.
Learning to communicate better is an important skill when it comes to playing doubles tennis, Gonzalez learned this past spring.
"We have to build trust and be able to talk our way through the game," she said. In addition to her athletic endeavors, Gonzalez is a member of the school's leadership programs and Pep Club.
She said being on the cheer squad is a large responsibility. She will be team captain this coming school year.
"We meet for practice at 5 a.m. during the school year, and in the summer, we gather at 6 a.m.," she said.
As for what talent she will be showcasing during the Sept. 17 Miss Sunnyside Pageant, Gonzalez has chosen to dance.
"It may be something with a Bollywood-theme," she said, "But I'm not sure yet."
Gonzalez, the daughter of Rosemary Salazar, is one of five children. She hopes to one day be a neonatal nurse.
"I've always been involved in leadership at school," Gonzalez said. "Giving back is a big thing to me and being the community's youth ambassador is just one more way to give back to my home town."
-This is the fourth in a 12-part series introducing the 2016-17 Miss Sunnyside candidates.