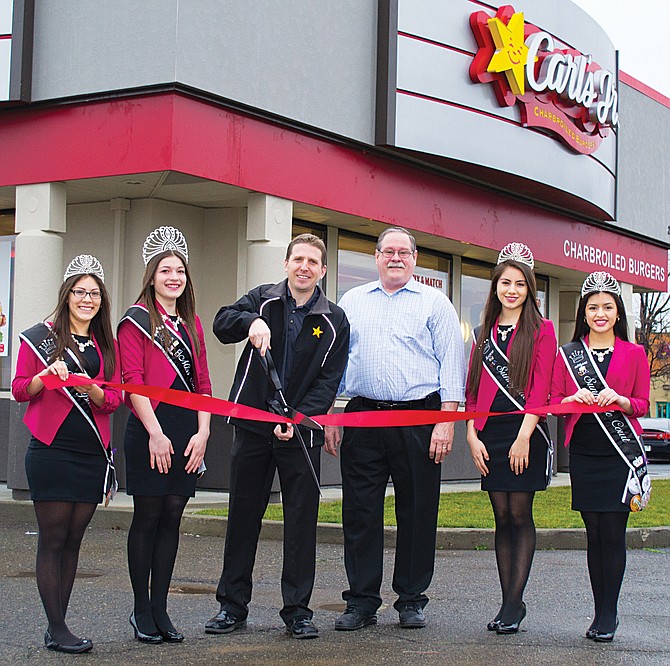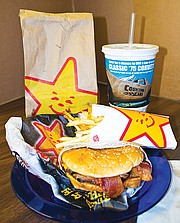 SUNNYSIDE — Customers are heading to the city's newest restaurant today, both to enjoy the food and to get a chance at free burgers for a year.
Carl's Jr. opened at 9 a.m. today following a ribbon-cutting ceremony.
Miss Sunnyside Jessica Linde said it will be nice to have another food option in town.
"I like their breakfasts," she said.
Owner Paul Jones said he's looking forward to seeing how Sunnyside responds to having the restaurant in town.
"I hope they are as excited to have us as we are to be here," he said.
He said he opened a location in Sunnyside because it is in the middle of his franchise territory with a large population to support it, and he got a good deal on the property.
Jones said the restaurant employs 57 people. The employees have been practicing with rubber food for days, and had their first experience with real food last night.
Brittan Moore of the Chamber of Commerce said she's excited to see the growth of business in town as well as the new jobs.
"They are our newest chamber member," she said. "I'm excited about the partnership in the future."
City Manager Don Day said he was pleased to see a new restaurant and happy to see growth in town, as well.
Jones, 38, is the owner of franchises in Yakima, Tri-Cities, Moses Lake and Ellensburg.
"Our Yakima grand opening was the third largest in (company) history," he said.
The restaurant at 2500 Yakima Valley Hwy. is the sixth location he has opened in the past four years.
"The location appeals to me because of the strong community, the population and the big schools," Jones said.
Also appealing to him is its central location to other restaurants.
"I am also impressed with the agricultural community," Jones said. He said individuals he has interviewed for positions at the restaurant are hard-working and have strong values.
At this morning's ribbon-cutting ceremony, people were already lining up for the 9 a.m. start of the regular business hours.
The celebration will continue on March 5 with a live remote event and additional giveaways.
The Carl's Jr. location will offer all its famous charbroiled menu items, including the signature Famous Star, Western Bacon Cheeseburger and new Angus beef burgers on fresh-baked buns.
Jones said the location will not have a Green Burrito.
"Why would I do that when people can get better tacos from their mom?" he said.
The former Arby's building and the nearly 1-acre parcel it sits on were purchased for $365,500, Yakima County records show.
Carl's Jr. and Jones received building permits from city officials in January to start the remodeling project, which has a valuation of $525,300, according to city records.
Carl's Jr. restaurants celebrate 75 years of operation this coming July.