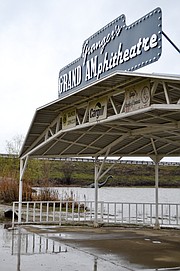 SUNNYSIDE — Flood waters in parts of Yakima County this week are expected to recede today.
That's according to the National Weather Service which, as of press time, predicts the flooding threat is over.
On Sunday, homes in some areas of Yakima and Union Gap sustained flood damage.
The Naches area was under a flood watch Monday, and yesterday and the National Weather Service extended its flood warning to the Lower Yakima Valley.
There have been no reports of flood damage in the Lower Valley.
Flooding concerns stemmed from the ground being saturated due to earlier rains. In addition, the Yakima and Naches rivers have been running at or near flood stage.
Last month, floods damaged the North Meyers Road bridge near Zillah and covered a portion of 40th Avenue in Yakima.
Elsewhere, flood waters over the past two weeks have again encroached the Hisey Park amphitheater in Granger.
"It happens every year. Every time the river comes up, the park is flooded," Public Works Director Jody Luke said.
The flooding doesn't cause significant damage, he said.