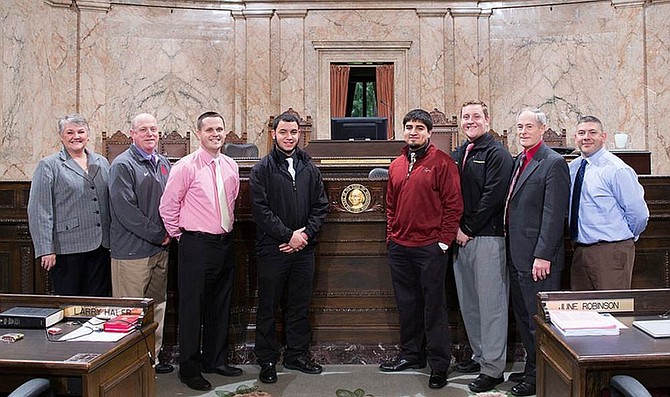 OLYMPIA — Lawmakers in the House of Representatives paused business yesterday to give special recognition to the Prosser High School football team, winners of the 2015 Class 2A state championship.
Led by 16th District Reps. Terry Nealey and Maureen Walsh, legislators unanimously approved House Resolution 4680, which "recognizes and honors the Prosser High School football team for its outstanding accomplishment and storied past of excellence in football."
"Under the leadership of Head Coach Corey Ingvalson, the Prosser High School football team went undefeated at home this past season, finishing with a spectacular regular season record of 9-1, and an overall record of 13-1," said Nealey, R-Dayton. "Their hard work and excellence deserves recognition. And we were pleased they could join us today to receive the honor."
"This is an impressive group of young men, and we are all proud of their accomplishments," said Walsh, R-Walla Walla. "I'm so thankful they took the time to come to Olympia today to be recognized for their hard work and dedication."
Ingvalson and his team left Prosser at 4 a.m. for the state Capitol to accept the resolution. They watched from the House gallery as lawmakers voted on the measure.
Prosser High School has a history of successful football teams, winning the state championships in 1992, 1993, 1999, 2007 and 2015. In the latest title run, the Mustangs outscored their opponents 100-36 as they went on to secure a fifth title, beating Tumwater 22-15 in the final. Ingvalson played on the 1999 state championship team and coached this past year's winning team.
Prosser High School alumnus Kellen Moore set numerous state records for the Mustangs, and went on to represent the community in the National Football League.
He ended last season as the Dallas Cowboys' starting quarterback.