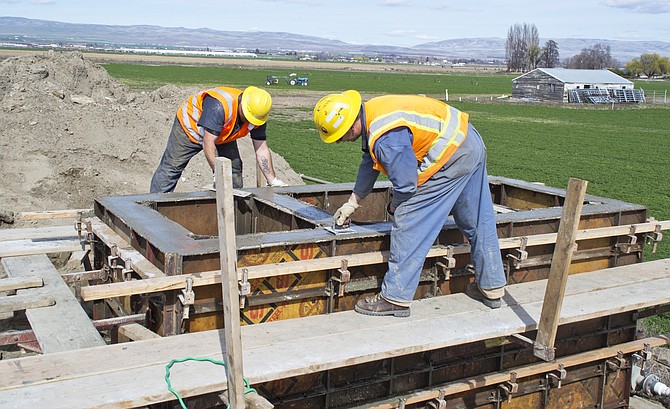 SUNNYSIDE — Crews are completing last-minute repairs before the Sunnyside Valley Irrigation District opens its gates.
"We're turning the water on very early Monday morning," Operations Assistant Manager Dave Bos said. "It'll be open at midnight."
The water outlook for summer is positive, Bos said. Reservoir totals are at 79 percent of capacity and the snowpack is about 114 percent of average for this time of year.
Bos said the district historically opens the gates between March 15 and 20 every year, depending on the day of the week and if any major construction is still needed on the main canal.
"We have to be able to deliver by April 1 by contract," he said. "So, in the 23 years I've been here, it hasn't changed much."
The drought last year didn't change the opening date at all, he said, noting, the gates opened March 17, 2015.
Bos did not have the opening dates for previous years.
"We prime the canals at the same time every year, regardless if there's a drought or not," Bos said. "We don't always know if the drought will be declared. And we still need to deliver the water."
A district crew spent part of yesterday pouring concrete on a weir box and preparing to fix a side panel and piping to the box on a canal on Outlook Road.
Ditch Rider Dana Schilperoort said damage to a portion of the canal allowed water to leak into an adjoining field.
It is among the highest repair priorities, he said.
Schilperoort said the laterals around Sunnyside will probably see water by March 25, including Harrison Hill canals.
"We're doing all the final projects that need to get done before the water is running," he said.
Bos said the main canal will fill up in a couple of days, with the first 37 miles seeing water on Monday and the remaining canal down to Grandview seeing water on Tuesday.
The laterals will fill more slowly, depending on how far they are from the main canal. Water deliveries will start April 1, Bos said.
The city of Sunnyside is confident it will get enough water for Sunnyview Park this season.
"We feel a lot better this year about how much water we have for the park that uses SVID (water)," Sunnyside Public Works Director Shane Fisher said.