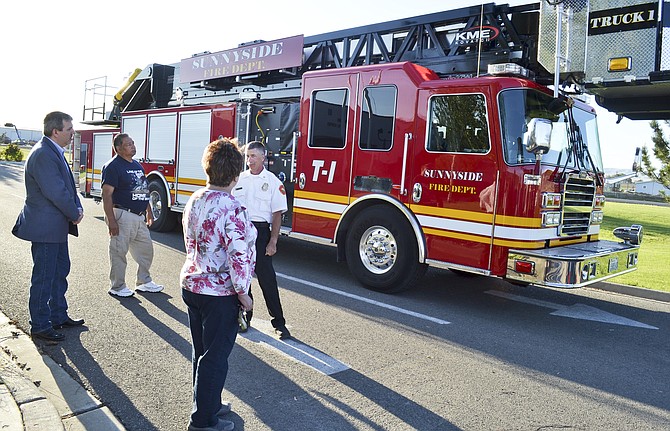 SUNNYSIDE — The City Council is going back to the drawing board to promote tourism.
Council members voted last night to reject all proposals for tourism promotion as originally requested by the Lodging Tax Advisory Committee.
Members of that committee earlier this month recommended city officials negotiate with Grant J. Hunt Co. of Yakima for tourism promotional services after reviewing two proposals.
The committee also recommended a $20,000 cap on lodging tax dollars that can be spent on the proposed contract for the remainder of the year.
The committee's original request for proposals, published in September, included general duties to "direct and manage the promotion, marketing, and advertising designed and implemented to attract tourists to the city of Sunnyside."
Committee members rejected a bid from Sunnyside Transformation Yakima Valley because it did not meet request for proposal requirements.
The City Council last night liked the concept of using lodging tax money to hire a promotional agency. Its concern is having a volunteer commission solicit bids and manage the contract.
"It's a good idea... just a little off track," Councilwoman Theresa Hancock said.
She is also the lodging tax advisory's chairwoman. She said she started having concerns about the proposal on further review.
City Manager Don Day agreed.
"It is on my shoulders to manage contracts, not the LTAC," he said.
City Councilman Francisco Guerrero cast the lone no vote against rejecting tourism services proposals
"We need to get on board with this now," Guerrero said. "We need to jump on this pretty quickly. It will benefit the city more than what it will cost us."
The council will review the request for proposals for tourism services during a June workshop.
Based on that discussion, the council will then provide direction to Lodging Tax Advisory Committee members.
In other action last night:
• The council formalized a three-year contract with the Texas-based Buxton Co.
The firm will provide the city with information on possible retail companies that could be a good fit. Buxton will also assist the city in retaining retail businesses.
The contract is at a cost of $50,000 for each of the three years, though the city can withdraw from the deal after the first year.
• Council members took a break to view the city's new ladder truck.