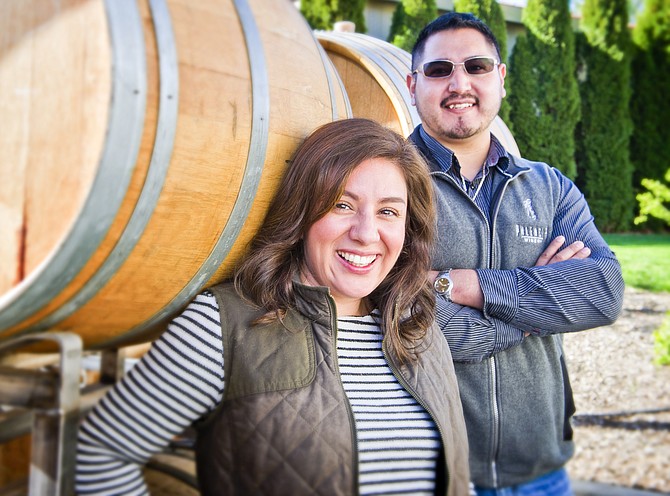 SUNNYSIDE — A former Prosser resident and a former wine writer are being honored in a new state program.
Victor Palencia, formerly of Prosser and now a winemaker in Richland, and Amy Alvarez-Wampfler of Walla Walla will be featured in the "Who are We?" legacy program being developed by Secretary of State Kim Wyman.
The profile on Latino winemakers Alvarez-Wampfler and Palencia, along with their former teacher, the late Stan Clarke, was written by Legacy Washington Chief Historian John C. Hughes.
"Washington is world-famous for its wines, and John's profile on Amy and Victor gives viewers a taste of their journey from starting in the wine industry to becoming respected and acclaimed winemakers," Wyman said. "This story celebrates their well-earned success as winemakers, as well as Eastern Washington's rise as a premier wine-growing region."
Just as Wyman did last year with her program to honor World War II veterans, she is reaching out this year to include outstanding winemakers in the state's various wine regions.
"We are trying to connect with the history of the wine industry in our state, Wyman said during a telephone interview last Friday.
"We launched the series to coincide with the start of Eastern Washington Spring Barrel Tasting event," Wyman said, noting it is an event she has never attended.
"I intend to remedy that soon," she said.
Palencia went to high school in Prosser, and Alvarez-Wampfler went to high school in Yakima. The story also spotlights Walla Walla Community College's role as an education innovator in the heart of one of the world's great wine regions.
In 1980, Washington had 4,000 acres of wine grapes and 19 wineries, Wyman said.
"Today, there are more than 870, capitalizing on 60,000 acres of prime vineyards," she said. "Washington is now second only to California in the production of premium American wines."
Alvarez-Wampfler, 35, is one of the top winemakers in the Northwest and a wine-magazine cover girl, Hughes' profile notes.
Despite having a young daughter and facing a long commute, she was one of the first to enroll in Walla Walla Community College's Institute for Enology and Viticulture. The two-year program has become one of the most successful winemaking schools in America.
Alvarez-Wampfler later made her mark at Columbia Crest and Sinclair Estate Vineyards. Her husband, Dan Wampfler, worked at Dunham Cellars.
Now they're working together at Abeja, a winery in Walla Walla.
Palencia, who came across the border from Mexico to the U.S. on his father's shoulders as a toddler, worked in a vineyard in Prosser.
He immersed himself in chemistry and science. He admits to skipping school "a couple of times" to meet with Clarke before enrolling at Walla Walla Community College and studying in the wine program that Clarke ran.
Palencia, 31, now oversees operations and winemaking at J and S Crushing in Mattawa, which also owns Jones of Washington. His wines for Jones and his own winery in Walla Walla are consistent award winners.
The winemakers' profiles will be on display at the state capital.