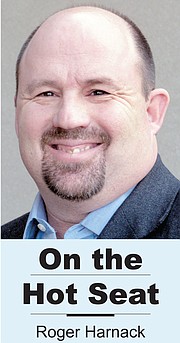 The race is starting to shape up to replace Peter Goldmark as the elected state commissioner of public lands.
So far, the candidates are not looking good — at this point, we have two environmental activists, a state Department of Natural Resources deputy director and an unknown Libertarian.
I'm still waiting for a wise-use candidate to stand up for rural residents and proper management of the forests we live, work and recreate in here in Washington state.
Let's look at the announced candidates, starting with Mary Verner, Goldmark's deputy director and go-to gal when it came to providing excuses for the Carlton Complex wildfire of 2014.
Verner was the mouthpiece for the agency after the fire burned 256,108 acres, destroyed 237 homes, 53 cabins and razed barns, outbuildings, fences, powerpoles, etc. The blaze remains the largest in state history, and the problems that led to it have yet to be resolved. The only reason I can see her running is to try to retain her high-paying job.
If a true forest manager — a silviculturist — is elected on a platform of wise-use, Verner is likely history. If we had a silviculturist in the office, which oversees the Department of Natural Resources, maybe we wouldn't have had massive wildfires devastating public lands in Okanogan, Chelan, Douglas, Kittitas, Walla Walla, Klickitat and other Eastern Washington counties in recent years.
Verner is part of the problem with Natural Resources.
Let's reminisce about the agency's failures in recent years.
On July 14, 2014, lightning sparked fires on public lands managed by Natural Resources and the U.S. Forest Service across a wide swath of the state. In Okanogan County, four fires began on Natural Resources-managed lands, and they were allowed to burn.
Okanogan County Commissioner Ray Campbell went with neighbors and attempted to put one of the fires out. They were turned away by the agency. Another resident attempted to extinguish a second of the fires. Again, Natural Resources officials said no.
And over a third fire, smokejumpers based in Winthrop were in the air ready to go to work. Instead, they were told Natural Resources had it under control; they were reassigned elsewhere.
Three days later, those fires, and a fourth, grew together into the Carlton Complex wildfire. The flames raced from the Methow Valley south and east. Homes burned in the Methow Valley, Pateros and other areas. A fifth fire started by a trailer wheel sparking on the road added to the intensity a week later. Natural Resources crews were not allowed to help protect the homes.
As a top official in the department, Verner was part of the bureaucracy that allowed families to lose their homes and ultimately cost two people their lives.
In the aftermath of the fire, Verner herself took a seat before the state Legislature as it waded into land management problems and the fire. During extensive question and answering, she denied the agency's culpability. She coaxed answers from subordinates that fit the narrative the agency wanted to paint – that it didn't have the money or resources needed to respond.
But that wasn't why the fire remains the largest in state history. It's because the agency has mismanaged public lands set aside in trust to raise money to pay for public schools. That's right, state trust lands are set aside to be managed for timber and natural resource-based revenues.
The wildfires are just the beginning of the agency's problems.
Natural Resources is charged with maintaining public access. Instead, it's deliberately impeded access. As a so-called leader in the agency, Verner not only knew that was happening, but was likely involved in related decisions.
Then there's the Okanogan County lawsuit against Natural Resources for its efforts to hinder installation of a redundant power supply system to the Methow Valley. There's also former State Attorney General Rob McKenna's decision and attempt not to defend the agency and its employees from lawsuits. There's the Legislature's refusal to give the agency $24 million more this year. And the list goes on.
Clearly, Verner is not the one to solve problems with the agency, which is charged with managing forest health while providing access for the needs and values of rural communities that depend on public lands.
And what about candidate former Bainbridge Island Councilwoman Hilary Franz? She's an attorney and director of Futurewise, a group of environmental activists. She's running on a platform of "environmental sustainability." She's clearly not the silviculturist we need, either.
Neither is King County Councilman Dave Upthegrove, a former state lawmaker who chaired the House Environmental Committee. Frankly, he scares me, running around the campaign trail touting himself as the next "environmental champion."
Then there's Libertarian candidate Steven Nielson — never heard of him before. I'm still waiting for his platform to see what he wants to do with the forests and agriculture land you and I live, work and recreate on.
Our state needs a strong advocate for wise-use of public lands who demands public access be maintained. We need a true silviculturists.
That candidate has not yet stepped forward.
— Roger Harnack is the editor and publisher of the Daily Sun News. Email him at rharnack@dailysunnews.com.