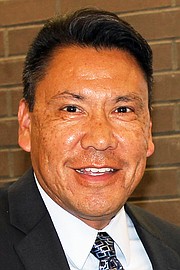 GRANDVIEW — The public will have an opportunity Thursday to meet the School District's superintendent finalists.
A community forum will be from 5–7:45 p.m. in the Middle School cafeteria at 1401 W. Second St.
During that time, finalists will answer questions from the public.
The finalists are Henry M. Strom, superintendent of the Mount Adams School District in White Swan; Kurt H. Hilyard, superintendent of the Union Gap School District; and Shannon M. Criss, superintendent of the Winlock School District.
Strom, 53, said he has become familiar with the School District through his involvement with the South Central Washington Instructional Improvement Network
"I was, and am, impressed with the level of instruction observed in their classes," he said. "I've also been impressed with the district's ability to author a math curriculum for their students."
Strom also credited the district's current superintendent, Kevin Chase, as one of his mentors when he started working in the Mount Adams School District.
Chase is leaving the district at the end of June to be superintendent for Educational Service District No. 105.
Hilyard, 58, has served as superintendent of the Union Gap School District since 2006.
He came to Union Gap after an administrative career in the Montana K-12 school system.
Last month, he was a finalist for the Sunnyside School District's superintendent position. The district eventually hired Zillah superintendent Kevin McKay.
Hilyard said at the time he was seeking a challenge. Though Union Gap's enrolment is smaller than both Sunnyside and Grandview's, Hilyard said that is not an issue.
"You still have the same problems, the same issues," he said.
The other two finalists also come from school districts with smaller student enrollment than Grandview's.
Criss, 54, was previously an administrator in the Ephrata School District before she became the Winlock district's superintendent.
She has also taught classes for Heritage University.
Criss said she is attracted to "…diverse communities such as Grandview."
She also praised the district's work in instruction and professional development. Criss called it admirable and "… something I would like to build upon."
Family is also a motivation for returning to Eastern Washington.
"My husband, Bob, and I will be grandparents for the first time any day now, so I am also wanting to get back to Eastern Washington to be closer to family."
After interviews on Thursday, the School Board may conduct site visits to the each of the finalist's current school districts next week.
The School Board could select a new superintendent as soon as May 18.
The new superintendent will start work July 1.