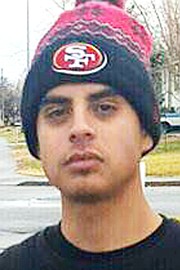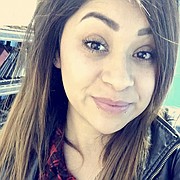 KENNEWICK — A Zillah woman testified yesterday in a Mabton man's murder trial that is continuing today in Benton County Superior Court.
Francisco Javier Munoz Quintero, 20, is charged with second-degree murder for allegedly killing Luisa Garcia Farias, 21, on Dec. 24.
Garcia Farias is the mother of Munoz Quintero's child.
Yesterday's witnesses included Shelby Barrett of Zillah.
She and friend Ricardo Orea found the 9mm handgun used to kill Garcia Farias, video show.
In testimony yesterday, the pair said they went to the site of Barrett's three-year-old crash along Interstate 82 crash near Yakitat Road — between Prosser and Benton City.
While walking through the weeds there, they found a gun, they said in testimony captured on video by the Tri-City Herald.
Kennewick Paramedic Daniel Tate also testified.
He said he responded to the 9-1-1 call from America De La Mora, video shows. He told the jury paramedics were moving Garcia Farias to a gurney when they noticed the bullet wounds.
Neither the entry or exit wound was "bleeding much," Tate said.
De La Mora testified Wednesday, stating she found Garcia Farias in the road. She saw a vehicle speed away from Tweedt Street shortly before seeing the injured woman.
On Tuesday, Garcia Farias' sister Paula Garcia and long-time friend Soledad Amaya testified. She recounted alleged domestic violence incidents between the two.
Yesterday's court proceedings included testimony from Department of Corrections Officer Brian Newton. He told the jury he was familiar with Munoz Quintero, who also had been detained when he was a juvenile.
The defense attorney, Alexandria Sheridan, objected to the testimony and moved for mistrial, video shows.
Judge Jackie Brown Shea denied the motion.
The charges against Munoz Quintero include an aggravated allegation of domestic violence because the couple's daughter was inside the vehicle at the time he allegedly shot Garcia Farias.
Evidence of ongoing domestic violence prompted an additional aggravated enhancement, court records show.
Garcia Farias was found in Kennewick after being pushed from a vehicle on Christmas Eve, court records show. She suffered from injuries consistent with a gunshot wound.
She was later pronounced dead at TRIOS Hospital.
Munoz Quintero was sought as a person of interest following her death, records show. He turned himself in four days later.
After being interviewed by detectives, he was arrested for second-degree murder. Court records show a judge set bail at $500,000 Dec. 30.