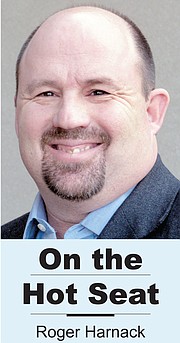 Today, President Obama's administration is threatening our school districts — and every other district across the country — with legal action if they don't obey his new edict on restroom use. In an eight-page letter being sent to all school districts, the Obama administration is threatening to withhold Title IX funding if they don't get on board his transgender train.
Call it what you want — I call it extortion.
Obama is using the U.S. Department of Justice and the U.S. Department of Education as his weapons in his fight to rid societal norms designating boys and girls, and men and women. As a father of a 14-year-old girl, I'm appalled.
This isn't a matter for the president to stick his lame-duck nose in. And it's not a federal Department of Education matter either. Nor does the Justice Department need to be involved. I'm not even sure why federal officials are pushing sexuality on our children.
This is a matter we should tackle here at the local level.
But in the letter, the administration tells school officials they are required to "correct" the gender of student records based on how a youngster identifies. Let me see if I get this straight — some clerk in some hidden away office gets to decide if the birth gender on student records is "inaccurate, misleading or in violation of a student's privacy rights?"
That decision sets the stage for much more than you may know.
The letter explicitly tells schools that they must treat all students the same, based on their gender identity.
Sounds good on the surface, but in layman's terms, that means boys who "gender identify" as girls must be allowed in girls locker rooms, dressing rooms and bathrooms at all times. No exceptions; no separate facilities.
Additionally, because the letter is using the Title IX rules to enforce its new rules, boys who "gender identify" as girls must be allowed to play on girls teams. Can we see the end of girls basketball and girls softball here?
The same can be applied to girls who say they gender identify as boys. No exceptions.
Again, as a Dad, that doesn't sit well with me.
For the most part, elementary and middle school students aren't too interested in sexuality. While most likely understand basic physical differences, few see themselves as a member of the opposite sex — that is until we push that belief on them.
I'll concede that high school students are different, with many being sexually active and much more aware of their sexuality. But not all.
Since the unelected state Human Rights Commission ordered rules last winter similar to Obama's, Eastern Washington has been pushing back, calling for the state to get out of our restrooms. Residents will be taking on the feds, now as well.
Lawmakers here have generally called on schools to get back to the basics of education, and reset actual gender-based restroom, and locker and dressing rooms use.
Rep. Matt Manweller, R-Ellensburg, sponsored a bill this year to knock the gender-identity restroom train off the tracks. Most other Eastern Washington lawmakers supported him. Ultimately, the bill was blocked by well-funded pro-gay and pro-transgender groups in Western Washington, groups that called anyone with a different opinion a bigot.
But even with Obama's edict and threats, the battle isn't yet lost here. Voters will likely have an opportunity to vote on the matter this fall.
Organizers are collecting signatures now to get Initiative 1515 on the state's November ballot.
The initiative would halt schools from commingling boys identifying as girls with actual girls. In short, it would prohibit those boys from entering dressing and locker rooms when actual girls are present.
The measure would also protect businesses that opt to keep restrooms separate, based on physical gender.
The initiative, as written, takes a different approach than Obama's bully tactics. It opens the door for us, as parents and community leaders, to decide what is best for our child.
Isn't that more important than kowtowing to those with political agendas and extortion threats?
— Roger Harnack is the editor and publisher of The Daily Sun. Email him at rharnack@dailysunnews.com