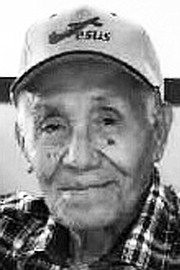 Jesus Campos, 92, longtime Sunnyside resident, went to be with his Lord and Savior on Tuesday, May 24, 2016.
He was born Sept. 15, 1923, in Goliad, Texas, the son of Costello and Maria (Salazar) Campos.
Jesus was one of eight children; five sisters and two brothers.
He cherished the moments spent with his mother's singing and he picked up her talent. Soon, he was singing and playing the guitar by memory.
He was a big baseball fan of the Red Sox.
Jesus met and married the love of his life, Margarita Davila, Aug. 25, 1941. They moved and made their home in Sunnyside with their seven children.
He worked in irrigation and in the hops at Golden Farms.
Jesus was one of the members who helped shape the structure of Iglesia El Calvario in 1959.
He is survived by his wife of 74 years, Margarita Campos of Sunnyside; four sons, Jesse (Rachel, deceased) Campos, Gilbert (Jan, deceased), (Rosie) Campos and Daniel (Melva) Campos, all of Pasco, and David (Pat) Campos of Yakima; three daughters, Celia (Arturo, deceased) Lopez of Sunnyside, Alicia (Juan) Garcia of Yakima and Gloria (Tony) Garcia of Mabton; 18 grandchildren; numerous great-grandchildren; and a sister, Victoria Rodriguez of Texas.
He was preceded in death by his parents, six siblings; daughters-in-law, Rachel Campos and Jan Campos; son-in-law, Arturo Lopez; and two great-granddaughters, Christy Lopez and Kenisha S. Garcia.
Viewing and visitation will be from 6 to 8 p.m., with an evening service at 7 p.m. Thursday, May 26, at Valley Hills Funeral Home in Sunnyside. Funeral services will be 10 a.m. Friday, May 27, at Valley Hills Funeral Home, followed by graveside services at Lower Valley Memorial Gardens Cemetery. A reception will be held after graveside services at Valley Hills Funeral home reception area.
Those wishing to send condolences can send them to www.valleyhillsfh.com.
Valley Hills Funeral Home in Sunnyside is in care of all arrangements.
More like this story