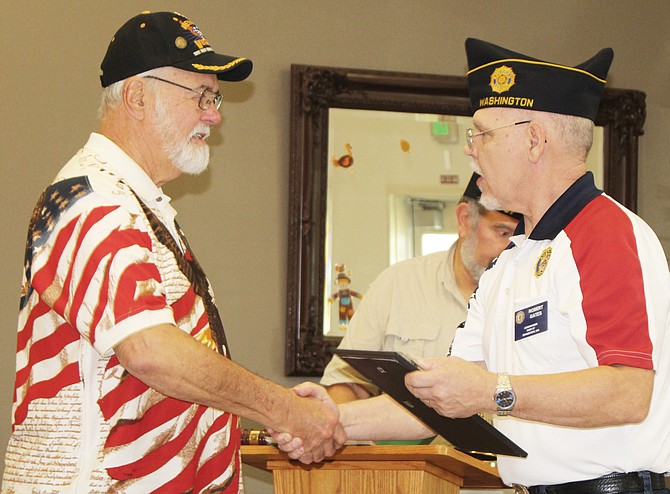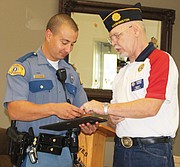 GRANDVIEW — Three residents were honored for saving a life during an event that recognized the contributions of many in the Lower Yakima Valley.
Saturday's award recipients will also be nominated for state American Legion honors.
Heroism
Donacio H. Balderas-Lucas, Richard Zook and Gretchen Chronis each received the American Legion's Heroism Medal and Humanitarian Award.
They were honored during the Fred E. Hayes Post No. 57's annual Veterans Day Brunch on Saturday.
The honors stem from a call to the Fire Department two months ago in which a man was reportedly having a heart attack, post Adjutant James Davidson said.
When firefighters arrived, they found Balderas-Lucas, Zook and Chronis had all stopped to help the man, who was lying in the front yard of a residence.
Balderas-Lucas was the first to make contact with the man. He was driving by and saw him lying on the ground. The man was not responsive and was gasping for air. 911 was called and CPR was initiated.

Zook arrived and assisted in keeping the airway open. Chronis then maintained contact with 911, assisted with checking for a pulse and directed CPR.
After 30 minutes of down-time, a pulse was established and the man was transferred to a local emergency department for further treatment.

Post Commander Robert Gates praised their efforts to "... make a difference in the life of one person, giving him a second chance at life."
Law enforcement
The post selected Washington State Patrol's Jarryd Bivins as its Law Enforcement Officer of the Year.
"His nomination was incredible," post member John Myers said. "The citation we read during his award was two-and-a-half pages long, but we had to tell everything because it was so remarkable."
Trooper Bivens was commissioned into the Washington State Patrol in September 2014 and assigned to the Grandview Detachment.

"Words like hard charging, courteous, respectful, honest, friendly, diligent and thorough don't even begin to describe the full character of Trooper Bivins as we saw in his nomination," Myers said. "His record of contacts and actions alone in the last year far exceed the Detachment's averages. We are so proud to honor him."
Myers said law enforcement has come under higher public scrutiny, so having an individual of such capability and high moral standards is highly appreciated with our communities.
Firefighter
The Grandview post's Firefighter of the Year is Ali Hurst, a volunteer with the local department.
"Her peers noted she had been a continual learner during her entire time with the department," Gates said. "She was also noted for bringing a positive attitude to everything she does, always willing to help anyone who needs it, a team player, and always projecting a 'can-do' attitude."
She was reported to be willing to share knowledge and always bringing a positive energy to whatever she was doing, Gates said.
"She's somebody that has a can-do attitude, willing to jump in and help," Fire Chief Pat Mason said. "She exemplifies the kind of people we love to have in the Fire Department."
Fourth Estate
The Daily Sun and Grandview Herald received the post's Fourth Estate award.
"We have appreciated the efforts of the Daily Sun News to cover the activities of both our Post and area events," Post Adjutant Jim Davidson said. "Their coverage of issues of concern to veterans, life stories and the respect shown to our veterans is remarkable."
Davidson said 2012 was the last time the post had presented the award, but hoped it would be more frequent.

"Just in the last week, the paper featured two members of our Post in unsolicited articles that told important life stories to share with the Lower Valley community," Davidson said.
Publisher and editor Roger Harnack then presented an award to the Post.

"For the last few weeks, we have been receiving nominations for the 'Valley's "Finest'," he said.

Harnack presented Gates with the "Finest Civic Organization in the Lower Valley" certificate. "The Post received quite a few nominations," Harnack said. "You do great work."
The Grandview Herald received the Fourth Estate Award for its assistance and coverage of the Post's Annual Penny-a-Day campaign.