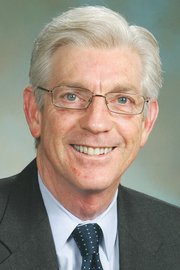 OLYMPIA — State coffers look set to receive $352 million more than anticipated over the next three years.
The state's general fund revenue is forecast to receive $215 million more for the 2015-17 budget, and another $137 million for the 20171-9 cycle, Chief Economist Steve Lerch said.
The general fund covers day-to-day costs.
"I'm pleased to see this forecast is up from September," Rep. Terry Nealey, R-Dayton, said following a meeting Tuesday.
He is the House Republican representative on the legislature's revenue forecast council and ranking member on the House Finance Committee.
Rep. Bruce Granger, R-Granger, said the new numbers aren't unexpected.
"It's in line with what we've been seeing the past few years," he said. "Our growth has been slow and steady, which has been positive."
Nealey said the new revenues will help with basic education funding.
"Every additional dollar from this forecast will help budget writers as the legislature focuses on K-12 education funding in the coming 2017 session," Nealey said. "While personal income and employment have risen primarily in the central Puget Sound region, there are other regions, especially rural areas, that are struggling."
Though revenues are trending up, the committee's report issued Wednesday also noted housing permits are down, and cautions there are still many risks in play in U.S. and global economies that could impact future state forecasts.
"That's why it is important we work this session to improve our business climate and grow Washington's economy statewide," Nealey said. "Doing that will help subsequent forecasts so we can properly address K-12 education and other priorities of government."
During the meeting, committee members voted 5-2 to adopt a motion that would show additional K-12 costs in the state's six-year budget outlook, including $1.75 billion in 2019 and $3.5 billion in subsequent biennia.
The addition was in response to the state Supreme Court's McCleary ruling and subsequently finding the legislature was in contempt.
Nealey disagreed with the committee's decision.
"There's not an existing statute, nor did the court put a dollar amount on this, nor is there a policy decision that has been made for us to rely upon to pin a figure down, such as the $3.5 billion dollars," Nealey said. "I think it would be an error for us to try to put a number down in the outlook or in a footnote." Chandler agreed.
"It's highly speculative as to what the cost is going to come out to be," he said. "It's not a matter of how we pay for it, but what do we get for the increased costs. I think Terry has a great point."