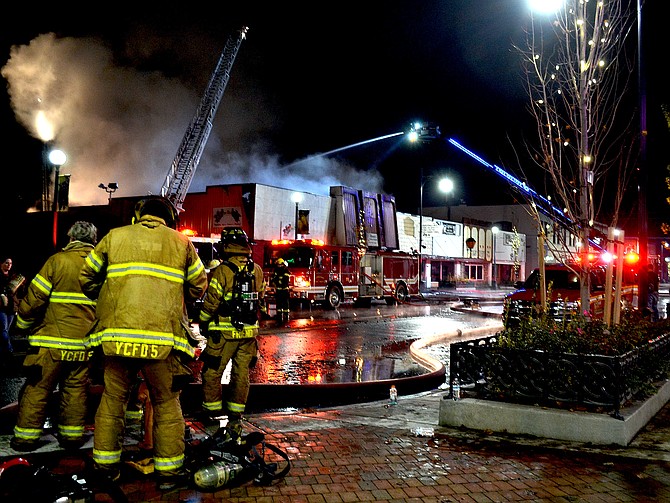 SUNNYSIDE — Firefighters are on scene at a fire that gutted two downtown storefronts and prompted the closure of South Sixth Street.
"No more fruit cups," Mark Cuellar Jr. said as he watched the fire at Antojitos Michoacan, 418 S. Sixth St.
"It's sad," his sister Kiana Cuellar said.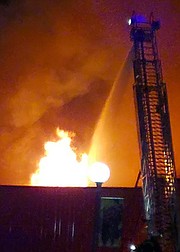 A crowd gathered to watch firefighters from Sunnyside, Grandview, Toppenish and West Benton County tackle the blaze.
City Councilwoman Theresa Hancock said her son in Yakima told her about the fire.
"I got out of my pajamas and got down here," she said.
Others learned of it through social media.
"My sister, Noemi, broadcast it on Facebook," Leonardo Carrasco said. "She's got like 2,000 followers."
Mark Cuellar Sr. said his family was just returning home from the Sunnyside High School production of "Zombie Prom."
"We saw the smoke downtown and wondered what was going on," he said.
Besides Antojito's, fire damaged Elena's Party Supply, 420 S. Sixth St., Fire Chief Aaron Markham said.
"It used to be one building and it was divided into two," Markham said. "They probably share the same attic space."
He said a firewall prevented the blaze from spreading.
Celina Espindola owns a hair salon just a few doors down.
"I think our building will be OK. So, thank God," she said. "It's sad for the other businesses, though."
Lifelong Sunnyside resident Miguel Garza, 32, said the gutted storefronts are bad for the town, not just for the business owners.
"With all the vacant store-fronts, downtown has become like a ghost town," he said.
Sunnyside Fire Capt. Bill Harris said crews received the fire call at 8:38 p.m.
Markham said the fire began in the back of the Elena's Party Supply building and spread from there.
"We still have to make sure the building is safe before we can investigate the cause of the fire," he said. "The buildings were secure, locked up."
The Sunnyside Police Department kept spectators back.
City Manager Don Day was also on scene as Sixth Street turned into a river with three ladder trucks spraying water on the buildings. The city's stormwater system overflowed and water nearly lapped over the sidewalk.
"I'm just making sure no one steps into it," Day said of an open storm drain cover.
Markham said his agency is investigating.