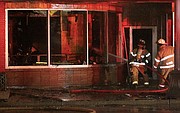 SUNNYSIDE — Officials today are still trying to determine what started a fire that destroyed two downtown businesses Saturday night.
Antojitos Michoacan and Elena's Party Supply at 418 and 420 S. Sixth St., respectively, were gutted by a fire first reported at 8:38 p.m. Saturday. It quickly destroyed the downtown shops.
"It's still a shock," party supply owner Elena Gonzalez said. "I hope to re-open, but it depends on the insurance."
Maricela Mendoza, owner of Antojitos Michoacan, could not be reached for comment.
While the two stores were destroyed, a neighboring shop sustained some water damage and others were unharmed.
Fire Chief Aaron Markham credited a fire wall of the party supply building for keeping the flames from spreading further.
Sunnyside firefighters were joined by crews from Toppenish, Grandview, Yakima County Fire District No. 5 and Prosser in battling the flames.
At one point, three ladder trucks were tackling the blaze.
The city's stormwater system overflowed and temporarily flooded Sixth Street. Water nearly lapped over the sidewalk in places.
A crowd gathered to watch firefighters in action, hearing about the blaze from family and social media.
Celina Espindola owns a hair salon just a few doors down from the fire site and was thankful her shop was spared.
"I think our building will be OK. So, thank God," she said. "It's sad for the other businesses, though."
Markham said the fire began in the back of Elena's Party Supply.
As of yesterday, the fire site was cordoned off with yellow crime scene tape, so officials can investigate the cause of the blaze.
It was the second fire in five years to destroy two downtown businesses.
In May 2011, the El Conquistador and Safari restaurants were destroyed by fire.
That blaze was later determined to be caused by a short in the Safari's electrical system.
Today, both stores remain empty.
The aftermath of that blaze included a lawsuit against the Safari by neighboring business owners.
The Safari fire also was a catalyst for the city's ladder truck.
Sunnyside had to rely on ladder trucks from neighboring communities to keep the blaze from spreading.
The city then successfully passed a bond measure to purchase a ladder truck as part of a new fire station.
Lifelong Sunnyside resident Miguel Garza, 32, said empty buildings are bad for the town, not just for the business owners.
"With all the vacant storefronts, downtown has become like a ghost town," he said while watching the fire Saturday night.
Over the weekend, the focus was to secure the site and make sure it was not a danger to investigators, Markham said.
Police kept spectators back and helped direct traffic. They also provided security.