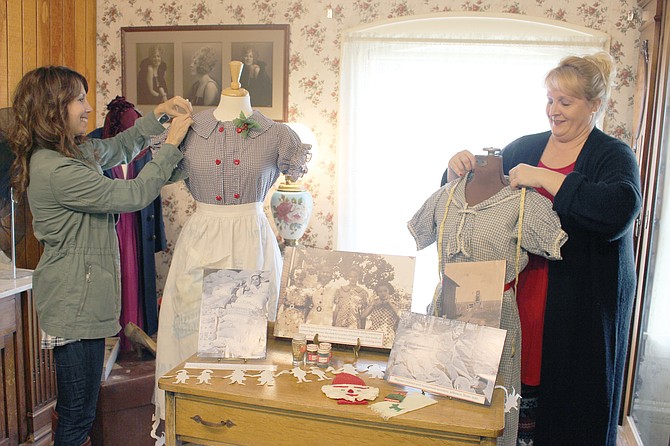 SUNNYSIDE — One of the most anticipated festivals weekend of the year approaches.
The organizers of the annual Lighted Farm Implement Parade, the oldest parade of its kind in the nation, now in its 28th year, are resorting to creating strategy maps to keep track of all the minor details yet to be completed.
"Things like making sure there are lights where they ought to be," parade coordinator Debra Estrada said.
Those details might be making sure there are napkins at 6:30 p.m. Thursday's tree lighting ceremony for the hot cocoa at Centennial Square.
And, most importantly tracking the entries for the main event- the lighted parade at 6:30 p.m. Saturday.
"It's getting exciting," Estrada said.
"Last week, we had nine applications, Tuesday, we cleared 50 entries and by the weekend – we know there will be more," she said.
One of those entries will be the Sunnyside Christian High School FFA Chapter float, which until Monday was just a design on the classroom table.
"With the excitement about the football tournaments and basketball starting, we are way behind," school student body President Justin Faber said Monday. "We are hitting it hard now," he said.
People planning to enter their children and grandchildren in the third annual Kids Lighted Parade also have had entries flowing in, parade promoter John Nyboer said.
The 6:30 p.m. Friday parade has proven to be a popular part of community's kick-off to the holiday season, he said.
Also on Friday night, the Sunnyside Community Hospital Festival of Trees will be from 6 to 9 p.m. at the Community Center, 1521 S. First St. The festival organizer will open the center for a Peppermint Express viewing of the trees at 10 a.m.
Of course, the big day – Saturday – will begin with the 10 a.m. cookie decorating party with Mrs. Claus at the Sunnyside High School Commons, FFA Chapter adviser Amber Burnett said.
Club members will be helping families with decorating cookies.
"Last year we purchased more than 300 boxes of cookies" she said
"We may need more this year," Burnett said.
The Sunnyside Museum, 704 S. Fourth St., will give visitors an opportunity to take a glance back at Christmas from long ago during its annual holiday open house from 11 a.m. to 4 p.m., museum board member Liz Martinez said.
"We'll have music and stories and hot cider," she said.
Cookies, chocolate and cider aren't the only food to be available Saturday.
Côte Bonneville. winemaker Kerry Shiels said the Train Station, 1413 E. Edison will be open late along the parade route offering hot mulled wine as part of the festivities.
Shiels said Guerra's Gourmet will be onsite from 12-6 p.m. with pizza and hot coffee.
"Côte Bonneville and Guerra's Gourmet are proud to be celebrating the agricultural traditions of their community," she said.
Down the street, the Sunnyside firemen will be serving up bowls of their famous hot chili and chili dogs, fireman Sean Glasser said.
"We'll also serve Darigold hot chocolate and coffee, all proceeds being used for Christmas families," he said.
The firehouse chili will be served at the South Eighth Street fire station from 4-7 p.m.
Nearby, the United Methodist fellowship hall, at 905 E. Edison St., will be open for parade-goers wanting to attend the Kiwanis Club's annual pancake feed from 4-6:30 p.m.
Following the parade the Sunnyview VFW Post No. 3284 will be open to serve bowls of hot chili and to announce the names of the winners of their annual chili making contest.
The 615 North Ave. post is open to members and guests, "…but for a bowl of chili, we can sign in guests," canteen manager Sharon Hallman said.
Thursday, recreational vehicles will be lining the streets to watch the parade proceed from Golob Landing on East Edison west to Homer Street. But there will be plenty of standing space to watch the parade all along the route, Estrada said.