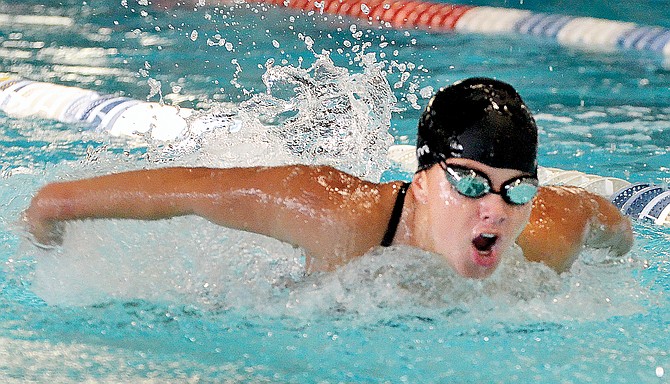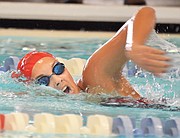 YAKIMA — Although the opposing teams won last night's dual meet, Sunnyside had top performances from one of its divers.
Davis won the meet against Sunnyside, 100-79, and Eisenhower defeated the Grizzlies, 115-64.
Lia Anderson won the diving event with a score of 148.25. Fiona Dunbar of Davis scored 123.9, and Eisenhower's Saria Pierce had a 135.65.
Sunnyside's other diver, Alex Partch, scored 122.95.
Aldo earning top honors in individual events were Allison Davis and Brielle Newhouse of Sunnyside.
Davis had the fastest time in the 50 yard freestyle event against the Pirates, clocking 28.61. That time was good for second place against the Cadets. Eisenhower's Jackie DeGrasse finished in 27.13.
Newhouse clocked 2:29.38, good for first place against Eisenhower and second against Davis. Jordyn Hilton of the Pirates tagged the end of the pool in 2:23.82.
In the 200 yard medley relay, Newhouse and Davis teamed up with Kylah Bunch and Erica Linde. The squad clocked 2:20.65, good for runner-up honors against each of the other teams.
Newhouse raced to a second-place finish against Davis in the 100 yard butterfly in 1:14.36. Against Eisenhower, her time was good for third place.
In the 100 yard freestyle, Davis earned second place against the Pirates and Cadet swimmers in 1:05.91.
Sunnyside's Arizona Rodriguez finished the 500 yard freestyle in second place against Davis, clocking 8:03.72. She earned third against the Cadets.
Newhouse, Anderson, Rodriguez and Clarissa Calderon earned second to both their opposing teams in the 200 yard freestyle relay, clocking 2:13.17.
Bunch finished in 1:18.99 in the 100 yard backstroke for second place against the Cadets and third against the Pirates.
In the 100 yard breaststroke it was Morgan Gardner of Sunnyside who clocked a second place time, 1:32.81, against the Cadets, a third place time against Davis.
The 400 yard freestyle team, consisting of Davis, Anderson, Bunch and Gardner also garnered a second place finish against both teams, clocking 4:52.52.