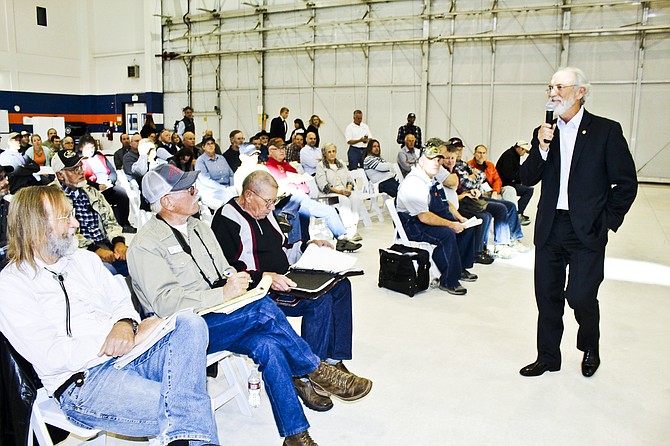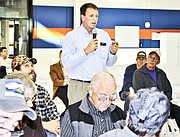 EAST WENATCHEE — More than 100 regional residents turned out Thursday night to voice concerns over the way the federal government manages publicly owned forests in the Pacific Northwest.
The session at Pangborn Executive Hangar was moderated by former state House Majority Leader Clyde Ballard and included a question-and-answer session with Republican Congressmen Dan Newhouse of Sunnyside and Rob Bishop of Ogden, Utah.
Newhouse represents the central part of Washington state from the Oregon to Canadian borders. Bishop is the chairman of the U.S. House Natural Resources Committee.
For more than 90 minutes, the trio fielded questions related to federal management of publicly owned lands in the state and in the West.
"The federal government manages a lot of land in our district," Newhouse told the audience before fielding questions on keeping roads and trails open, protecting motorized vehicle use, wildfires, timber revenues and environmental lawsuits.
"Over the last nine decades, Congress has written some really bad legislation," Bishop said, noting generic language has cost rural communities in access to and use of the forests. "If everything is going to be done by rule making in the executive branch, what do you have?"
Bishop said his committee's effort is to shift rule making from bureaucrats in the executive branch to elected officials in Congress.
"If you transfer the power from these agencies to Congress, then you will have input," he said.
Once that's accomplished, he said the committee will move forward with local control measures, and "transfer authority back to the states."
In the meantime, he said, Congress is attempting to stop bureaucrats from blocking access, recreation and commercial use of public lands under federal management.
Newhouse said he is also pushing for an end to "fire borrowing," in which U.S. Forest Service bureaucrats are claiming they need money to fight wildfires more than they need to maintain roads, thin forests, sell timber and support rural communities.
Several questions surrounded the U.S. Forest Services efforts to force an unwanted "forest travel plan" in Okanogan-Wenatchee National Forest, which extends from the Naches area of Yakima County to the Canadian border in Okanogan County.
Several Okanogan County residents and members of all-terrain vehicle clubs voiced their concerns about the plan.
"We're being held hostage for road use in the Methow," Winthrop resident Ed Surette said.
Area residents wanting to use the Hart's Pass road and U.S. Forest Service Road 4200 are being "forced" to pay not only for road maintenance and repairs, he said.
"The (ATV) clubs had to go out and get fallers," he said. "We had to get contractors. We're being held hostage."
Surette called on the Congressmen to get the U.S. Forest Service refocused on its mission to manage timber for revenue for rural schools and jobs for local economies.
He called on the federal government to end its environmental activism.
Okanogan-Wenatchee National Forest ATV enthusiasts Gary Allard, Spencer King and Ted Jackson were in attendance to also encourage efforts to protect roads, trails and motorized vehicle use.
Their concerns come just a month or two before the expected release of a so-called forest travel plan that is likely to restrict motorized vehicle use both on roads and trails, as well as in off-road areas.
One resident asked if there is anything Eastern Washington residents can do to ensure access is protected if the plan takes an activist tone and restricts motorized vehicle use, including automobiles, ATVs and motorcycles.
"There's always something we can do," Bishop answered. "It's a long, laborious process. It'll take 4-5 years."
Bishop said residents need to stop the plan before it is implemented, and advised the crowd to oppose rulemaking, contact senators, Congressmen and everybody they can.
Dave Price of Athena, Ore., attended the meeting to focus attention on the regulatory delays that leave dead trees to rot, rather than be sold as salvage.
"The system is so long, so expensive," he said of the bureaucratic red tape when it comes to salvage.
Jon Wyss, a rural Douglas County resident running for the 12th Legislative District state Senate seat, seized on the salvage issue.
As chairman of the recovery group helping communities rebuild in the wake of the 2014 Carlton Complex wildfire — the largest fire in Washington state history — he's been pushing for salvage of fire-killed trees for the last two years.
"The Forest Service has not harvested the dead, standing timber," he said. "That's just going to be fuel for the next fire."
Newhouse said he knew about the problem. He also said dead trees only have a salvage value for about a year.
"That's an issue we need to address," Newhouse said, noting he's talked to forest officials about it previously. "I've not gotten a satisfactory answer."