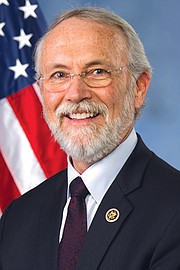 WASHINGTON, D.C. — Congressman Dan Newhouse's co-sponsored bill designed as a "first step" to reform federal agencies' use of tax dollars was approved by the House yesterday.
House Resolution 5226, called the Regulatory Integrity Act, passed by a vote of 250-171.
Newhouse, R-Sunnyside, introduced the bill in partnership with Rep. Tim Walberg, R-Michigan, following the "What's Upstream" campaign earlier this year.
The anti-farm campaign generally implied farmers "upstream" pollute our water, resulting in massive fish kills.
The advertising hit-piece, website and other materials were wholly paid for with Environmental Protection Agency funding.
House Resolution 5226 directs federal agencies to provide transparency in rule-making by requiring agencies to post comments in a central location available to the public. It also prohibits agencies from lobbying or campaigning in support of proposed rules.
"In recent years, a disturbing trend has emerged among federal agencies," Newhouse said, speaking on the House floor yesterday.
"In a number of instances, federal agencies have used taxpayer dollars to fund public communication campaigns attempting to lobby for agency regulations."
Federal laws already prohibit use of taxpayer dollars to market and lobby for rules being pushed out by agencies. Regardless, agencies continue to spend funding to promote proposed rules.
The violations were in the spotlight earlier this year when the "What's Upstream" campaign was unveiled in an effort to push new clean water rules requiring 100-foot buffers around waterways in Washington state. The campaign included billboards, bus and radio advertising, and a website with a "visually assaulting" anti-farm message, Newhouse said, noting the imagery linked farmers to dead fish.
The campaign urged residents to call state lawmakers and push for stricter regulations on farmers.
"It is also important to note that it has been discovered that these images were not even from the state of Washington," he said.
Newhouse took personal offense to the campaign, noting he is "a life-long" farmer himself.
"I was insulted by the blatant lies this campaign has spread about farmers," he said. "Your hard-earned taxpayer dollars are being used by the EPA to lie about farmers, and then to lobby state legislators to put in place stricter regulations against farmers.
"It's unconscionable, and it violates the law."
Several other congressional leaders were also offended by "What's Upstream" and 145 House members signed a letter demanding accountability from the EPA.
In April, the Environmental Protection Agency admitted it should not have funded "What's Upstream."
The bill moves to Senate for consideration.