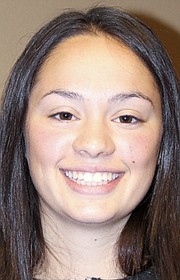 SUNNYSIDE — When thinking about a career beyond high school, veterinary work sounds like a good idea.
Unfortunately, on the first day of class, Jennifer Garcia Chavez discovered the course instructor had just quit.
YV-Tech welding instructor Tom Dolan took her aside and asked her about her other options.
"He told me about the welding program," the Sunnyside High School senior said.
As it turned out, welding was her second choice in career training.
"My Dad does collision repairs, so I feel right at home in the welding shop,"
she told Daybreak Rotary Club members yesterday.
Chavez has the opportunity to speak before the club since the club was meeting in the Port of
Sunnyside offices, just a block away from the YV-Tech facility.
"This way, she won't be late for class," Dolan said.

He said the students have spent the past week just getting familiar with the equipment in the classroom and learning about safety measures and equipment.
"I'm hoping they pay attention to where their fingers are," he said, holding up his own injured hand.
Chavez and her classmates are working on a major project.
"We're helping to create the Sunshine Day Car Show trophies for Saturday's show," she said. "That's pretty cool."
Club spokesman Jay Hester said the club will be meet at the port offices until future notice.
However, the next Wednesday morning meeting will be a tour of Bonzi's mailing service and gift shop, next to the Ace Hardware store on Yakima Valley Highway.
The members will meet at 6:45 a.m.