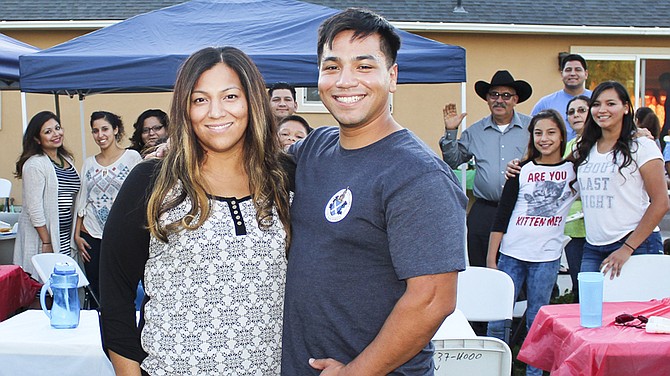 SUNNYSIDE — She calls him an all-American hero. He says he is happy he could help.
Sgt. Emmanuel Ramos, 27, has known for years that he might be called to make a lifesaving sacrifice for his sister Irma Mejia's life.
Irma, a 32-years-old mother of three, suffers from an autoimmune disease that attacks her system every time she got a fever or inflammation.
Called IGA Nephropathy, it is a disease that damages the tiny filtering units of the kidney.
"The damage from the immune system attacks my kidneys, weakening them to the point they nearly quit working," Mejia said.
After the birth of her third child two years ago, Mejia, an advanced registered nurse practitioner at Mid Valley Community Clinic, found she simply wasn't getting her strength back.
That's when her doctors discovered that one of her kidney's was shutting down and the other not far behind.
Since that time, she has been on a waiting list, hoping to be matched for a replacement kidney.
As is typical in these situations, the best donor is usually a blood relative, Mejia said.
"A sister and brother-in-law were initially willing to help, but that didn't work out," she said.
In fact, last December, she was headed out the door to Seattle for surgery when at the last minute the transplant was called off.
In recent months, as her condition worsen, she faced the possibility she might have to undergo dialysis to preserve what function was left in her malfunctioning kidneys.
Then as her kidney's function dropped below 10 percent, her brother came to the rescue.
"He saved my life," she said.
Her brother, who is military journalist, realized he held the answer for helping his older sister's life.
"I've always known in my heart that I would be the one to donate one of my kidneys to her," Ramos said.
But because is deployments and other job duties, he wasn't able to help his sister sooner. "And we believed the situation was covered by other family members," Mejia said.
When in August, he had leave from his U. S. Marine company at Camp Pendleton, it was the right time to reexamine if he was still a good match for the transplant.
So, nearly five weeks ago, Ramos traveled with her to Seattle's University of Washington Medical Center for immediate surgery.
"I went to work on Tuesday and we had surgery on Wednesday," Mejia said.
Following his contribution to the surgery, once out of recovery, he was nervous and anxious to see if Mejia was doing well.
"The nurses wouldn't let me see her, for the longest time," he said. "I just wanted to see her," he said.
Finally, the doctors informed him that the kidney transplant has been successful. They said the new kidney puffed up and turned pink and immediately started work," he said.
"I'm very grateful," she said of her brother's gift.
"He may never become a hero with medals but he saved my life and that makes him my hero," Mejia said. "He's a Marine and Marines save lives and he saved mine," she said.
Mejia went back to work yesterday and will be on light duty for a few more weeks. Ramos left for California today.
Ramos, who faces a job evaluation when he returns to base, expects to be put on light duty for a time. "We are still healing," he said.
"But this is not about me," the six-year veteran said.
"I helped my sister because I love her. This is just an example of what love is," the young marine said.