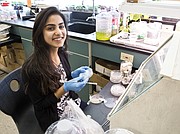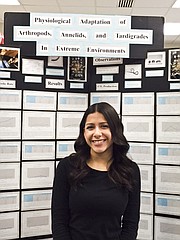 BREMERTON — Sunnyside High School science students all came home with hardware and many earned special certificates from a state competition last weekend.
High school science teacher Joyce Stark and teacher Teri Alvarez-Ziegler, chaperoned 27 students at the two-day fair.
Stark said this year, in honor of the fair's 60th anniversary, trophies were given to first, second and third place winners instead of ribbons,

"Everyone did very well in their respective categories, Stark said.
Special wards trophies, from a variety of other organizations, were also presented to the winning team members.
First place freshmen winners were Rachel Turner, Marlee Weets and Adia Curfman , who also earned Wolfram Research, Inc. Mathematica Software.
Claiming second-place honors were Kyleeanna Schenck, and Lani Skyles, who also earned Second Place, Special Award - Water Environment Federation U.S. Regional and a Stockholm Junior Water Prize Award.
Also earning second place honors were Gillian Moyer and Sylvia Alvarez.
Freshmen earning third place trophies were Keira Bodine, Yuhlianna Godinez, Daniel Gurrola, Diana Velazquez, Madeline Campos and Saul Macias.
Cinthia Santiago Villanueva earned an honorable mention.
In the high school division for students in grades 10-12, first place honors went to Abrag Nassar, Karen Villanueva, Carolina Limon, Clarisa Calderon and Mishel Aguila, who also earned Wolfram Research, Inc. Mathematica Software.
Earning second place and special awards were Quinn Yates, In Vitro Biology Award; Ashley Hassler, American Meteorological Society Award; Daisy Abonza, Optics and Photonics Special Award; Elizabeth Ruldo, Washington State Association of Fire Marshals, USDA Forest Service Pacific Northwest Research Stations; and Emanuel Manzo, American Chemical Society.
Third place trophies went to Alex Cavillo, Marisol Najera and Maricela Santana, who claimed a Plant Sciences Achievement Award.