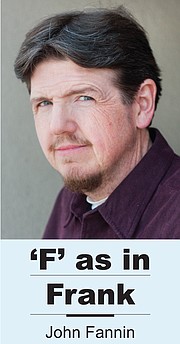 Awards season is well under way in the Lower Yakima Valley.
Sunnyside's awards banquet is tomorrow; Grandview's is next week. Prosser and Granger have honored their unsung heroes.
That means it's time for the seventh annual Effie (for F as in Frank) awards.
They're my best-of awards, based on the spirit of celebrating those who serve the valley.
Business of the Year
The verdict may still be out on when Sunnyside Community Hospital will break ground on its new site on Alexander Road. But make no mistake, there is no doubting the hospital's intentions.
It's decision to ask and receive city support for a loan package to build infrastructure to the 50-acre site shows the hospital means business.
And, there's much to be said for a vision that stretches beyond the comfort zone. In the hospital's case, that means making in-roads in new territories.
The hospital now owns and operates medical facilities that stretch from Yakima to Prosser — no small feat.
Public Official/Employee of the Year
Slow and steady wins the race, and that's proven the case in Mabton for Police Chief Phin Haglin.
Taking over a department that seemingly had a turnstile at the front door, Haglin is bringing stability and his staff even broke up a burglary ring. What's most telling about the latter accomplishment is that Haglin and company did so with leads provided by community members.
That shows a return of trust in Mabton's fines — and earns Haglin this award.
Volunteer of the Year
Make this the "Volunteers of the Year," as there seems to be no quit in the band of doers known as the Yakima Valley Fair and Rodeo Board.
Kudos to them for putting in the days and nights it takes to prepare the grandstands and grounds at Grandview.
The faithful few who make that fair their mission do Grandview and the Lower Yakima Valley proud year after year after year.
Legacy award
It's had a name change or two over its 10-year life span, but I'll go with the original — Transformation Sunnyside.
The community garden, Sunnyside's farmer's market and the Loving Sunnyside Initiative are just a few of the legacies from the vision brought forward by Herman te Velde and the late Jerry Haak.
And it's gratifying to see much of that continue forward with individual groups and boards taking ownership of their projects.
That's it for this year's Effies.
Thanks for reading, and especially thanks to all who work to make our valley a great place to call home.
— John Fannin is the managing editor of The Daily Sun. Contact him at jfannin@dailysunnews.com