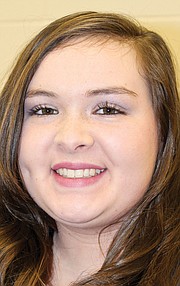 GRANDVIEW — In a few short years, this Miss Grandview candidate has already served her school and community in a myriad of ways.
Kendall Roberson, 17, is the daughter of Scott and Kaylani Roberson and is one of four children.
Roberson is also one of eight girls seeking the community ambassador title as Miss Grandview.
She and the other candidates will be competing in the annual pageant at 7 p.m. Saturday in the Grandview Middle School gymnasium, 1401 W. Second St.
Doors open at 6:30 p.m.
Roberson is active not only in school activities but also other areas of the community. At school she serves as Key Club president and takes part in editorial and business management of the school newspaper – "The Crimson Post." She is also active in sports as a two-year member of the swim team, three-year player on the basketball and tennis teams, and gave soccer a try her sophomore year.
She has earned community recognition as the Grandview Chamber of Commerce Student of the Year in 2014.
Roberson has helped with at a community Fall Harvest Festival, she volunteered for the Kiwanis Club rest stop events, cooked breakfast the Yakima Valley Fair and Rodeo, and was a Salvation Army bell ringer.
She was the director of the 2014-15 canned food drive and served on the community Haunted House decoration committee this past year.
For the talent portion of the pageant, Roberson plans to present a memoir regarding the recent passing of "my grandpa."
Tickets for the Miss Grandview Pageant will be on sale at the door.
Note: Look for Candidate Daisy Romo in Friday's Daily Sun.