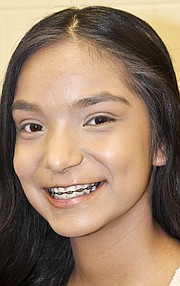 GRANDVIEW — With desire to help people, this Miss Grandview candidate is setting her sights on attending Washington State University.
"I want to be a nurse, so I can help people and make a difference in someone's life," Daisy Romo said.
Romo is one of eight Grandview juniors seeking the Miss Grandview crown.
The winner will be announced during the 7 p.m. scholarship program pageant tomorrow on the Middle School stage, 1401 W. Second St.
Romo and her fellow contestants will be judged on fitness routines, interview, talent and poise throughout the evening.
In addition to the Miss Grandview crown, contestants have an opportunity to vie for such titles as the Spirit of Miss Grandview, and "Be Your Best Self" honors.
Romo is the youngest of Abel and Marta Romo's four children.
Focusing on her studies, Romo's favorite class is sports medicine. Her favorite sports star is Olympic gymnast Simon Biles.
Romo also has been active in field and track events.
She enjoys spending time with family and friends, reading, music and dancing.
For the talent portion of the pageant, Romo will present a hula hoop routine.
Tickets for the Miss Grandview Pageant will be on sale at the door. Doors will open at 6:30 p.m.