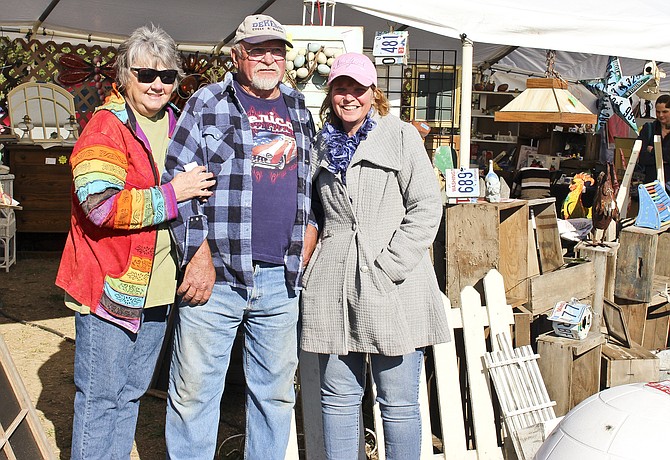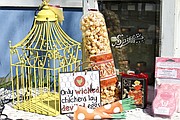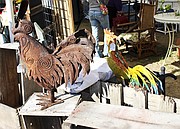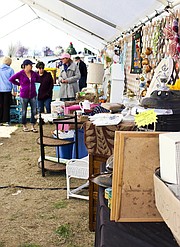 ZILLAH — New tourist attractions are popping up around the Lower Yakima Valley that may at first seem like 'just another flea market."
The rebirth of flea markets has a whole new look here, thanks to events like the Bloomerang in Sunnyside in mid-September and the Sunnyside Lions 16th Street Community Flea Market in early August.
But organizers of the "No Rhyme or Reason Flea Market" this past weekend believe there is room for one more such event to lure thousands of tourists to the Lower Yakima Valley.
The two-day event attracted more than 45 vendors and thousands of shoppers to Don and Edie Allan's farm on 2060 East Zillah Drive.
The vendors offered everything from handmade yard furniture to specialty items like Scentsy non-flame candles and kettle corn.
There were also food vendors who helped keep market-goers on-site for a bit longer.
Market creative designer Shelleigh Goodwin said she and her step-mother, Edie Allan, began in February to advertise and search for vendors to fill the more than 4 acres with specialty items from jewelry to one-of-a-kind shabby chic items and primitive arts and crafts
"We wanted to offer an event that shoppers of all kinds would enjoy," Goodwin said.
Goodwin, who specializes in creating yard and garden art, said the flea market proved to be a huge success.
"We will be open again Saturday and Sunday for the pre-spring barrel events in the valley."
"And, we'll be open on the official Spring Barrel Weekend, April 28-30," said Edie Allan, who handled the antique and vintage collectibles side of the market.
Allan also operates this Old House Antiques at the farm.
Goodwin, who works as a retail representative for Walmart, said she hopes to open her own country garden design shop at the farm.
Goodwin said they were encouraged by area winery staffs to be open more than just one weekend.
"We'll believe we can find more customers from among the winery visitors looking to extend their visit to wine country," she said.
"After all, we are in the middle of the Rattlesnake Wine Trail," Goodwin said.