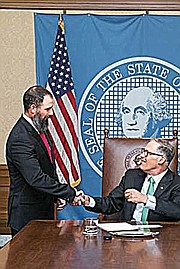 OLYMPIA — The state Department of Licensing is now required to mail a concealed pistol license renewal notification to license holders 90 days before their license expires.
House Bill 1100, sponsored by Rep. David Taylor, R-Moxee, passed the state House of Representatives unanimously and was signed into law yesterday by Gov. Jay Inslee.
"A concealed pistol license is the only instance we can find where the Department of Licensing does not send out a notice when a license they issue is about to expire," Taylor said. "This is something that needs to be rectified.
"It is also more expensive to renew a concealed pistol license after it has expired.
"I think if DOL can send your barber or manicurist a notice of an expiring license, they should do the same for those exercising their Second Amendment rights."
According to Licensing testimony in committee, it would cost approximately 84 cents per notice.
The bill directs $1.00 from both the original license fee and the renewal to be deposited in a newly created account to cover the cost.
The law takes effect 90 days after lawmakers adjourn the regular session.