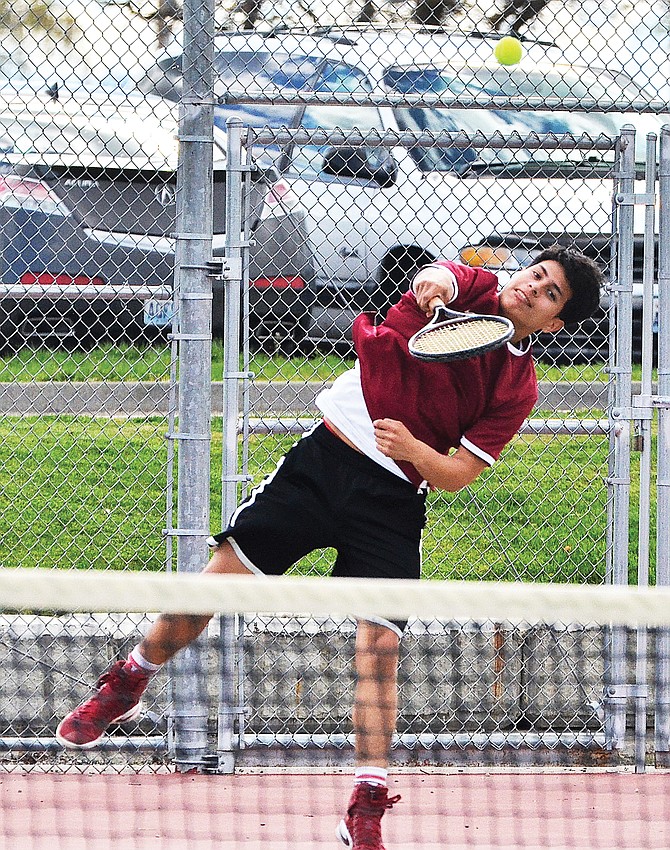 GRANDVIEW — The Greyhounds boys tennis team won its second straight match, 4-1, against Ellensburg yesterday.
The only loss was in No. 1 doubles action. Teammates Joel Pina and Marc Martinez were undefeated as a duo until Ellensburg's Andrew Hull and Austin Ness handed them a 6-3, 7-5 loss.
The Bulldogs, however, lost each of the singles matches and the remaining two battles in doubles.
Alfonso Granados won the No. 1 singles match against Johnny Bartlett, 6-4, 6-2. In second singles, Devin Amaro of the Greyhounds won, 6-1, 6-2, over Jack Bandy. No. 2 doubles players Roy Escareno and Esgar Valencia of Grandview defeated Jaiden Duby and Ben Shissler by twin scores of 6-0. Nathan Barrientes and Isaiah Villarreal won the No. 3 doubles match via 6-2, 6-3 sets against Bulldogs Jacob Holdeman and Andy Garcia.
The girls didn't fare as well, suffering a 2-3 loss to Ellensburg.
Alexandra Gonzalez of the Greyhounds won the No. 1 singles match against Rosaly Goveia in three sets, 6-0, 4-6, 6-0; and No. 2 singles player Yanet Cortez defeated Bulldogs player Addie Klucking, 6-4, 6-2.
All three doubles teams lost their matches.
Lorena Torres and Sonya Trevenio were defeated 6-2, 6-0 in No. 1 action; Maria Ramos and Wendy Garcia lost by 6-4, 6-0 in No. 2 play; and No. 3 teammates Alexa Rodriguez and Briseida Espindola battled through three sets before losing, 4-6, 7-5, 6-1.
Grandview returns to the courts Saturday at East Valley (Yakima).