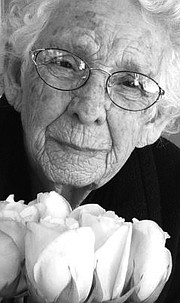 Rosa Mesa Ledesma Vasquez, 99, of Sunnyside, passed away peacefully Monday, April 24, 1917, at Just Like Home in Sunnyside.
She was born Aug. 31, 1917, in Porvenir, Texas, to Rosendo Mesa and Benita Flores.
Rosa was the last surviving member of the eight Mesa children born to Rosendo and Benita.
She is thought to have been the last remaining, direct descendant of the infamous 1917 Porvenir Massacre, in which 15, unarmed, Mexican men were gunned down by a company of Texas Rangers.
Rosa spent her formative years in Texas before her family moved to Montana in the late 1930's.
In Montana she met Pedro (Juan) Ledesma and together they moved to Toppenish in 1942. In 1952, they bought a small farm in Outlook to settle and raise their fifteen children.
Rosa was unequaled in her strength of character and unconditional commitment to her extended family.
She had a wonderful sense of humor, a quick wit, a sharp tongue, spoke her mind, didn't suffer fools well but, loved and cared for anyone who came wanting to her doorstep.
She always said her greatest gift was raising intelligent, strong, compassionate and successful children who did the same.
To say we will miss her is as gross an understatement as can be made. We loved, admired and worshiped the ground she walked on.
Of the 15 children born to Rosa, 11 have survived her; Chavelo (Kathy) Ledesma of Outlook, Manuel Ledesma of Sunnyside, Francisco Ledesma of Bethany, Okla., Raquel (Ruben) Carrera of Sunnyside, Dolores Ledesma of Seattle.
Juan (Sandra) Ledesma of Aberdeen, Enrique Ledesma (Rosalie Betts) of Sunnyside,

Ramon (Kendra) Ledesma of Sedro Woolley, Linda (Gary) Sprague of Woodland, Mario (Cheryl) Ledesma of Richland, and Arturo (Nancy) Ledesma of Portland, Ore. Rosa also leaves behind 46 grandchildren; 71 great-grandchildren and 29 great-great-grandchildren.
Rosa was preceded in death by her husband, Pedro; eldest daughter, Mary Medrano; son, Albino; daughters, Martha and Rufina; grandson, Michael Ledesma; and granddaughter, Leighann Parker-Ledesma.
Viewing and visitation will be from 4-8 p.m., Friday, April 28, at Smith Funeral Home in Sunnyside.
Mass of Christian burial will be at 10 a.m., Saturday, April 29, at St. Joseph's Catholic Church in Sunnyside, with burial to follow at Outlook Cemetery in Outlook.
Those wishing to sign Rosa's online memorial book may do so at www.funeralhomesmith.com.
Smith Funeral Homes is in care of arrangements.