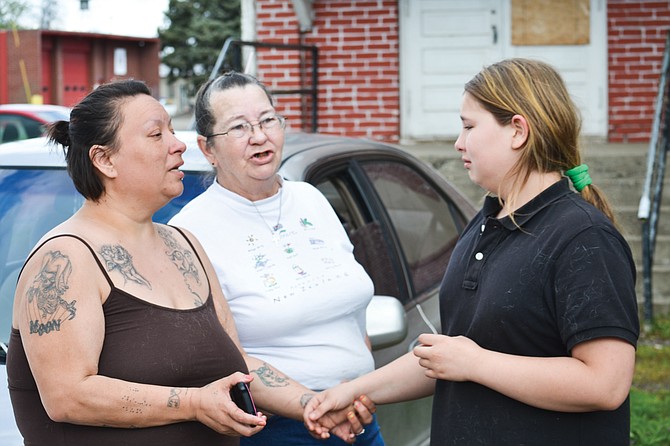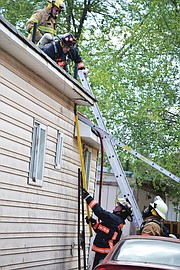 GRANGER — Her 43rd birthday is one a local woman would rather forget.
Minerva Moon and her family are looking for a temporary home today after their home caught fire yesterday afternoon.
Crews were called out to the house, 105 W. A St., at around 3 p.m. yesterday.
Moon and family were planning a barbecue later at their home in honor of her birthday yesterday.
The fire changed that.
"I'm just glad we were out of the house," Moon said, noting they had been in Sunnyside.
Her brother, David Moon, said a Granger city worker saw smoke coming out of the roof and sounded the alarm.
Firefighter Ken Shipman said the fire was trapped between the roof and a false roof immediately underneath.
"As long as we keep it from spreading there shouldn't be too much fire damage," Shipman said.
Crews from Zillah and Toppenish assisted in the fight to save the house, he said.
Granger Police Officer Larry Olson also responded to the scene, and said the ceiling was intact.
"But there's a lot of water," he said.
Olson also offered the family ideas on housing options, ranging from the Red Cross to local churches.
Minerva Moon said she didn't know what their housing plan would be.
"That's a good question," she said.
Her son, Dave Nunez, and daughter, Emilia, were in tears, worried about home and cherished possessions.
"My stuffed animal is in there," David said. "My aunt gave that to me."
"My fish are there, I hope they'll be okay," Emilia said.
Shipman said it was too soon to know the cause of the blaze.
Moon said it was electrical.
"The breaker box was popping," she said.
Moon claimed it is a long-standing problem, and that she had cautioned the landlord about it several times.
Moon said all plans were off for her birthday celebration.
Her mother, Dorothy King, said it was a day to give thanks; all were safe and none were injured.
"At least she wasn't at home when it happened," King said.