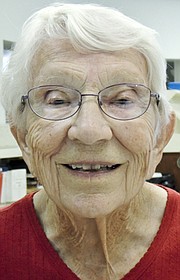 SUNNYSIDE — If you happen to see Nadine McConnell around town, take a moment to say hello.
Most young folks don't know Nadine, but a lot of older ones do. She is the retired owner of the downtown Coast to Coast Hardware and later Eastway Shopping Center Coast to Coast.
She misses the interaction with people the most. She's elated when she runs into old customers.
"One of the reasons I go to Safeway is that I might see somebody I know there, so I can visit," she said.
Before Nadine and her now-deceased husband, Ralph, retired in 1998, Coast to Coast was bought by Ace Hardware. That made the McConnells Ace Hardware owners at the end of their careers.
Nadine said both of them loved the business life. But they were a bit unconventional, for their time.
"I was the people person. I took care of sales, and Ralph was the business person. He took care of all business matters," she said.
Although Nadine dedicated most of her adult life to the hardware business, that was not her school girl dream.
"I thought I was going to work in a dental office," she said. "But then Ralph came along, and everything changed. He was a handsome man and a nice man."
Nadine's story is the story of a changing Sunnyside.
She and Ralph were one of the early businesses to leave downtown for greener pastures. Now, all the downtown businesses of her time are closed or elsewhere.
Coast to Coast was on Sixth Street, two doors down from the current Fashion Corner, which back then was J.C. Penney Co.
When Penney's left downtown, it went all the way to Mid-Valley Mall.
Nadine's Sunnyside story goes way back. Her ancestors set foot in the Yakima Valley in the 1800s.
Nadine's grandfather Chester Padgem left New York for a job that awaited him in the Wenas Valley. He was going to farm and raise milking cows.
Nadine's grandma, Gertrude Cochran, came to the Wenas from Missouri at the same time. She had a school teaching job waiting. Gertrude and Chester were in their early 20s when they met.
"The Lord took it from there," Nadine said.
Not long after they married, Nadine's grandparents bought a farm on Allen Road near Sunnyside. They raised eight children, of which Nadine's father, Kester, was the oldest.
Kester and Vella Parfit were married around 1920. A business college graduate, Kester moved the family to Modesto, Calif., where he was employed at a bank.
Nadine and her sister Darlene were born there. They became Sunnysiders when Kester moved back to the valley.
Because of a World War II rule that men who enlisted in the military would get their jobs back upon their return, Kester lost his job to the man who had it previously.
Back in Sunnyside, Nadine met Ralph McConnell at Sunnyside High School. He had come here from Tennessee as a kid. She was 20, and he was 19 when they wed.
Ralph worked for the Ford garage in Prosser for several years, then he and Nadine started to want a business of their own.
Nadine was working at Coast to Coast, owned by Victor Burch at that time.
That connection helped Nadine and Ralph land a Coast to Coast in American Falls, Idaho. When Burch decided to retire, in the '60s, the McConnells came back to Sunnyside, buying his store.
Later when the McConnells wanted to enlarge their business, they had to look for space.
Eastway Pharmacy owner Frank Filicetti had the space.
"He really wanted to have someone in that building," Nadine said.
After the move, Coast to Coast was taken over by Ace Hardware.
"People told us it was a mistake to move out there, but things turned out well," Nadine said
The McConnells were excited about retirement in 1998. They purchased a motor home and traveled the entire United States, taking a northern route all of the way to Maine.
"We stuck our feet in the ocean so we could prove we'd been there," Nadine said.
Ralph died in 2006. Now Nadine entertains herself reading books and watching cooking shows on TV.
"It's hard to cook for just one person, but maybe they'll show a meal I can make for myself," she said.
Or maybe she could go to Safeway, find the ingredients for one of those meals and an old friend with whom to share.