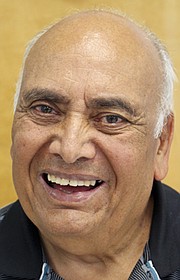 Herb Alpert and Lani Hall walked onto the stage at Walla Walla's Gesa Powerhouse Theater Sunday night and adopted looks and voices of amazement.
Before their stop at Walla Walla, Herb and Lani had probably only heard of the city that was named twice.
The musical couple, who have been married 43 years, said things like, "Walla Walla, huh? Who would have thought?"
What got their attention was the proximity of the crowd. The closest fan was no more than 15 feet away, and the sellout of 250 was all within conversation distance.
So, Alpert turned the night into a conversation. If the patrons didn't know him before Sunday, they do now. Fans asked questions, and he answered them genuinely.
There is nothing pretentious about this 80-year-old trumpet phenom or his 70-something songbird wife. They chatted as if they were your friends.
I was there as my Father's Day gift from and with my daughters Jenny and Berney. I was in the right side balcony, looking right down at Herb.
I believe Lani and Herb learned there is music appreciation in flyover country.
After Lani finished a Brazil '66 medley, the 250 sounded like thousands in applause. She looked up to where I was and started waving at people with a broad smile, as if surprised.
Same happened with Herb after he completed a Tijuana Brass medley. At one point, Herb said: "I hope you're having fun. We are having fun."
Herb and Lani are accompanied by a drummer, a bass player and a keyboardist. They are all crack musicians and can sing.
I learned something about Herb that other musicians wondered back in the '60s and '70. Yes he is a serious musician.
The simple music of the TJ Brass years was a way to break in commercially and give him a chance to really perform.
Herb displayed some fine jazz trumpeting Sunday. What he did Sunday you just don't expect from a man who's 80. He was inspirational.
And Lani still sings with that sweet, soft, haunting voice that got my attention on "Fool On a Hill" as the lead singer for Brazil.
Herb mentioned he picked up a trumpet at a school music fair when he was a shy 8.
"I couldn't make a sound with it, but when I learned how, I had my voice," he said.
He used that bit of history to segue into encouraging parents and schools to get their kids into music early in life. Herb told several other stories Walla Walla fans appreciated. They showed it too, over and over, the loudest 250 ever.
"Let's hear it for Walla Walla," Herb said near the end of the show. That made the 250 even louder, and Herb and Lani and their entourage could not have smiled more.
The music was great, the musicianship better, and this performing pair's humanity even greater.
— Ted Escobar is the managing editor of The Daily Sun.