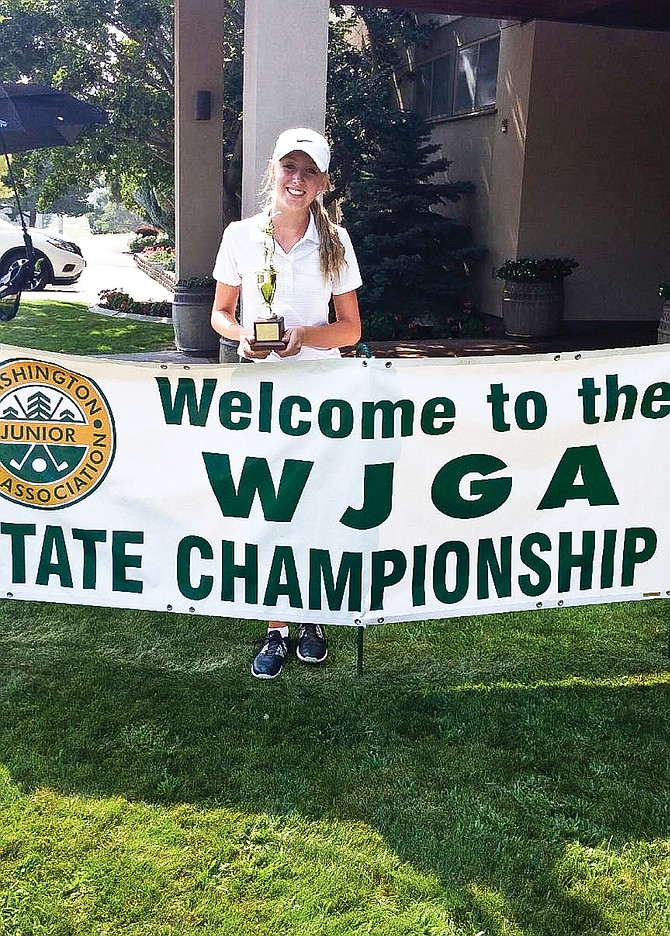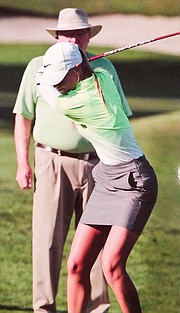 RICHLAND — Although she didn't win, Morgan Baum, of the Mt. Adams Golf Club in Toppenish made sure her name will be remembered after the final round of the girls 16-18 division of the Washington Junior Golf Association state tournament yesterday.
The tournament was played at Meadow Springs in Richland and Black Rock Creek in Sunnyside. The final round was at Meadow Springs.
Baum went into the final round tied for 7th, and she came out of it tied for fourth. She posted the best final round among the seven girls who made the cut.
Therese Warner of Kennewick, who started the day with an 8-shot lead over Samantha Hui of Kennewick, won the title, but struggled to a 79 in the final round.
Warner finished at 3-under par, but the second-place Hui couldn't do anything about it. She had her own troubles with a 76.
Baum took fourth place with a 1-over 73 in the final round. She was 1-under after the 12th hole, but bogeys near the end put her in black numbers.
Still she had the best round of the day.
Cassie Kim of Yakima and a friend of Baum's, finished third with a closing 77.
Both Yakima girls will be back. Both are high school juniors.
Warner finished with a three-day total of 213, Hui had 218, Kim 222 and Baum 223.
Yakima had a star in the boys 16-18 division, but he struggled on the third day, if you can call par golf a struggle.
Max Turnquist started the day tied for first with Sean Kato of Redmond at 7-under. Kato went 4-under in the final round and Turnquist couldn't keep up.
Kato surged early and put Turnquist in the rearview mirror. He made birdies on three of the first four holes. Turnquist made birdies at 16 and 18 to finish at par.
He slipped into third place, when Alvin Kwak of Mukilteo closed with a 68 to finish at 9-under.