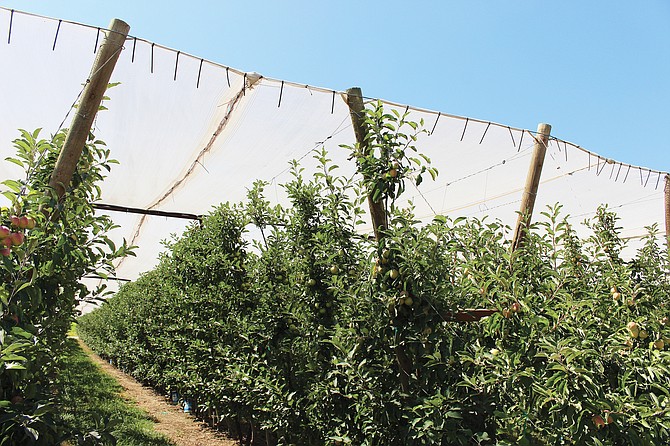 The Washington State Tree Fruit Association is estimating a state apple crop slightly smaller than last year's.
The Association released its forecast for the crop yesterday, saying it will pack out at 130.9 40-pound boxes. This is down 1.2% from 2016's 132.9 million-box crop.
"The 2017 Washington state apple crop looks to be slightly smaller than last year's crop but will still deliver an ample supply of tasty apples for consumers to enjoy this year," said Jon DeVaney, Association President. 
"Harvest is starting a few weeks later than last year, and growers anticipate a crop of good quality fruit."
Granger grower Brad Carpenter, a board member at Olympic Fruit, noted the crop got a slow start because of a cool spring.
He said no one knows yet how the high summer heat will affect the crop. It could help size up the apples, which are undersized for this time of year.
Carpenter said growers are about two weeks away from the start of Gala harvest. When those start to come off, growers will have a better idea of the heat's effects.
"The Galas are the ones most affected by high heat," he said.
Those effects can come in the form of sunburn, skin coloration and even interior quality issues.
But, Carpenter said, if the heat helps apples size up across all varieties, then the current crop estimate could be low.
"We are looking for an average crop (at Olympic)," he said. "It won't be light, but it won't be heavy."
At the moment, Olympic is expecting to pack 170,000 bins of apples.
"It all depends on how they size up," he said.
Consumers will have many varieties of Washington apples from which to choose from. 
While Red Delicious remains the most numerous variety with a projected 24% of production, Gala is close behind at 22.5%, followed by Fuji at 14% and Granny Smith at 13% of total production. 
Honeycrisp is forecast to come in at 8% of the total crop and Cripps Pink at 5%
This forecast is based on a survey of Association members, and represents a best estimate of the total volume of apples that will eventually be packed and sold on the fresh market (excluding product sent to processor). 
Apple harvest typically begins in August and continues into November.
As a result, this forecast is still subject to several months of variable weather which can affect the final harvest total, the Association said.