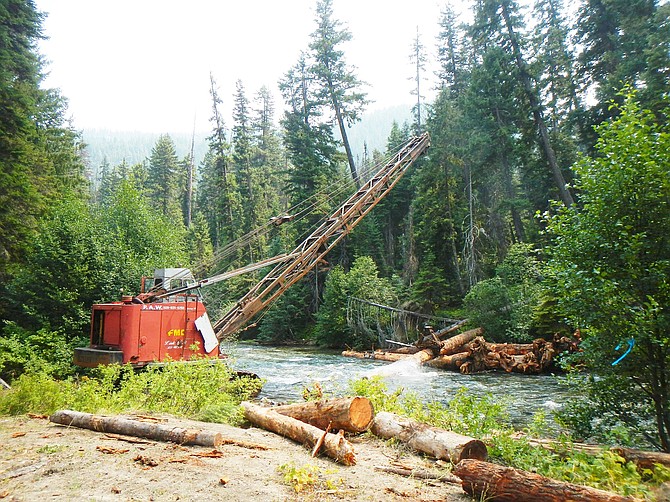 NACHES — The Naches Ranger district is putting several hundred blown down trees to good use, improving habitat for listed fish in the Bumping River this month.
The trees are from a windstorm at the Soda Springs Campground in the winter of 2015.
The aquatic habitat improvement project is being completed in partnership with the Yakama Nation fisheries program and will improve six instream sites within a 6-mile section of the river. The fish habitat improvements will benefit treaty reserved fish species, including the Middle Columbia River steelhead and Bull trout, both of which are listed as threatened by the Endangered Species Act.
"This project will meet several objectives by directly benefitting watershed conditions by helping to return the river to a more natural state," Naches District Hydrologist Scott Nagel said. "Placement of large wood, in this case blown down trees, within and alongside the river will improve hydrologic and habitat function, including channel complexity, spawning habitat and pool creation."
Lack of large wood, elevated water temperatures and reduced stream flows have been shown to be limiting factors in recovery of fish species. Benefits include improvements in recharge of shallow groundwater and reduction in peak flows, stream temperatures and refugia, where habitat conditions exist to support species survival.
"Dispersed camping within the construction area will temporarily be closed until Aug. 15 while restoration work is taking place," Nagel said.
This project represents progress in work under the 2008 Columbia Basin Fish Accords Memorandum of Agreement which provides funding to implement fish and wildlife restoration projects throughout the Yakama Nation's Ceded Lands, as well as other areas utilized by aquatic treaty trust or reserved fish species which are protected under the treaty of 1855.