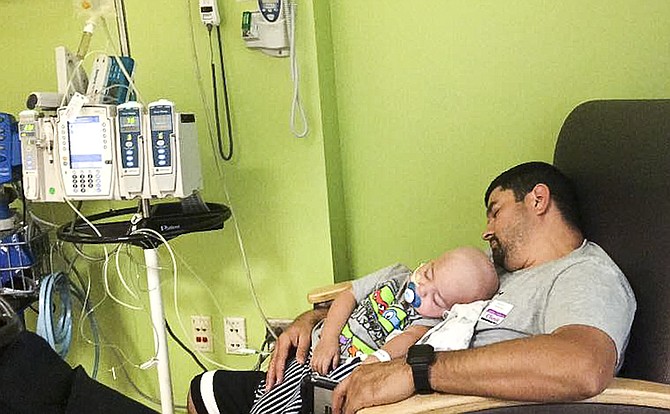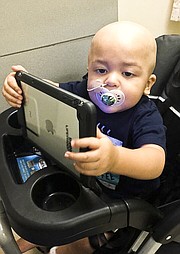 SUNNYSIDE — All parents know the thrill of watching a child take his or her first steps.
Most don't know the fear that overcomes parents when they learn that child has stopped walking.
That's how Kristy Lee Jimenez started to learn that's her son Jesiah, 20 months old, has leukemia.
She's been with him in Seattle day and night while he goes through the treatments doctors at Seattle Children's Hospital mapped out for him.
The plan Jesiah is on calls for three years of treatments, the first one will be in Seattle. Then mom and son will come home so he can take two more years of treatments at Richland's Kadlec Medical Center.
A lot of valley folks know or know of Kristy Lee. She was working toward a singing career in Tex-Mex music. She sang everywhere she could as often as she could.
Big talents in Tex-Mex came to visit her. Recording studios courted her. Then in 2012 her dream started to fade.
She married Hector Jimenez by then and wanted family life more than music. Now she's content with singing with the congregation at her church in Toppenish.
"Music was going to take a lot of traveling and hotels, and stuff like," she said. "I really didn't want to do that."
The last thing Kristy Lee did in music was re-record in 2012 an original song she had recorded as 15-year-old.
"I'm fine with it. Music's a hobby now," she said.
The end of music was just as well. What was to come next would throw her and her extended family for a loop.
Kristy and Hector were married nine years ago. They have two children. Their other child, Noah, is 5.
They were on vacation in Georgia in June when Jesiah took his first steps. But he walked only two days.
Back in Sunnyside, the Jimenezes made an appointment with Physician's Assistant Irma Mejia. But there was so much concern that they went to emergency first.
Doctors there said they detected a hip problem through x-ray. The next day, Mejia ordered an x-ray of the other leg. She could not confirm a problem in either hip.
Kristy took Jesiah home with instructions to observe him. She was carrying Jesiah on her hip at home, and, when she went to adjust his positioning, he screamed.
"It was like excruciating pain," Kristy said.
The scream was so loud that Hector ran to Jesiah to see what had happened.
On June 16, the Jimenezes went back to Mejia, with Dr. David Swofford present. They took blood at 4 p.m.
At 7:30 they called Kristy, saying she needed to get to emergency "right away."
"His blood work had come back abnormal," Kristy said.
The Jimenezes were sent to Yakima Regional Hospital at 9 p.m. At 2:20 the next morning, Kristy and Jesiah were on a flight to Seattle Children's Hospital.
At 2 p.m. that day, the Jimenezes were told that Jesiah had High-risk Acute Lymphoblastic leukemia. Kristy asked why it was called high-risk. Because he was so young and his white blood cell count was very high.
"It was horrible," Kristy's mother, Nellie Jaramillo said. "Everybody was crying. I saw a sadness on my husband's (Frank) face I'd never seen before."
The news hit the Jimenezes hard, but they are coping well. They are strong Christians who aren't about to question God about this.
Kristy is tired a lot of the time. She took Jesiah in for labs Monday night and had to be back there with him yesterday for an infusion of blood.
Tomorrow she'll take Jesiah in for labs. The thinking is he might need platelets.
Friday, Jesiah will be put under anesthesia all day while he receives chemotherapy through his spine.
"He has treatments five times a week, sometimes six," Kristy said.
To watch Jesiah function, you wouldn't think anything is wrong. Kristy said you can see he's ill some times, but he's usually chipper.
"Even when they warn me about nausea and possibly acting out, he comes back looking fine," she said.
Kristy has not been told that Jesiah is improving.
"It's not getting worse, and that's good," she said.
Kristy keeps in touch with family and friends on Facebook. If you look at her page, you'll see she has many.
"I've even heard from people I don't know," she said. "One man in Florida has offered to buy school clothes. It's amazing. I feel overwhelmed with love."