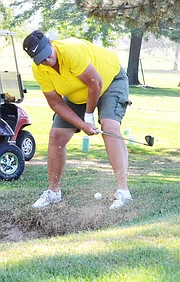 SUNNYSIDE — Local golfers took home two of the top prize purses Sunday from the 61st annual Banana Belt tournament at Black Rock Creek Golf Course.
Scott Ferguson, representing Black Rock Creek, took home $600 for winning the Low Net Field with a combined score of 137 — 70 on Saturday and 67 on Sunday.
He edged Scott Andrews, who also represented Black Rock Creek, in a playoff.
Andrews, however, took first place in First Flight Net with his score of 137 — 68 on Saturday and 69 on Sunday. For his effort, he claimed $500.
The other $600 prize purse went to Mike Van Wingerden of Mount Adams golf course.
He won the Low Gross Field purse with a score of 138 —68 on Saturday and 70 on Sunday.
Two other golfers also took home $500.
Troy Wilmoth of Yakima Elks, scored 145 to win the First Flight Gross with a Saturday score of 72 and Sunday of 73.
Craig McLoud of Mount Adams won the Second Flight Gross with a score of 160, 79 on Saturday and 81 on Sunday.
Keven Fraizer of Mount Adams tied with Randy Boast of Black Rock Creek for first in Second Flight Net with scores of 142. Both men took home $450.
Event organizers said 96 golfers from throughout the region hit the local course for the two-day event.
The course opened Friday for practice to participants.
Other cash payouts went to the remaining Top 5 finishers in each class. Those winners are:
First Flight Gross — 2. Gary Hutchins, Yakima Elks, 145, $400. 3. Eric Inions, Mount Adams, 148, $300. 4. Justin Bos, Black Rock Creek, 149, $150; and Jed Tait, Mount Adams, 149, $150.
Second Flight Gross — 2. Lou Alcala, Mount Adams, 169, $400. 3. Tom Dienar, Black Rock Creek, 171, $300. 4. Doug Veach, Black Rock Creek, 172, $200. 5. Jerry Harris, Yakima Elks, 173, $150, and Dick Poteet, 173, Black Rock Creek, 173, $150.
First Flight Net — 2. Ron Eakin, Yakima Elks, 139, $400. 3. Sam Steinmetz, Mount Adams, 140, $300. 4. Matt Van Wingerden, Mount Adams, 141, $200. 5. Laney Anderson, Mount Adams, 144, $100.
Second Flight Net — 3. Norm Mallonee, Burns, Ore., 143, $150. 4. Alan Sandlin, Black Rock Creek, 145, $150. 5. Bob Hicks, Black Rock Creek, 145, $150.