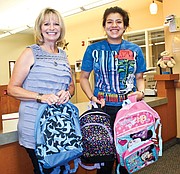 SUNNYSIDE — High School senior and Running Start student Irene Rangel didn't need to do another community service project.
She is already busy working to earn her associate of arts degree from Yakima Valley College while taking a few classes at the high school.
About a month ago, she decided she wanted to do a little something for her community.
After a few discussions with her mother, a student teacher, she decided she "…wanted to collect school supplies for children in the Sunnyside School District."
"I asked friends and families for help in collecting school supplies," Rangel said.
Sunday, she put together supplies to fill 18 backpacks which she delivered to each of the school in the district.
"Each back was filled with basics," she said.
Composition books for the middle school students, and crayons and scissors for elementary students, Rangel said, "plus paper, pencils, rulers, and note books."
"I just got it in my head it was something I wanted to do," she said.
Rangel collected more than $250 for her project.
"I am hoping that the supplies will be going to those who really need it,' she said.
"We are thrilled that Irene wanted to donate to our school," Sun Valley Elementary Principal Jeri Paulakis said.
"We appreciate her help to support our students," she said.