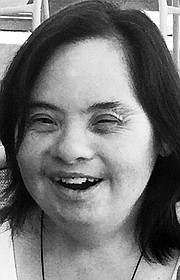 Alma Elena Romero, 50, of Granger passed away peacefully on Nov. 29, 2017, at Cottage in the Meadows, Yakima.
Alma was born on Aug. 17, 1967, to Maria Elena and Macario Romero in Merced, Calif.
Alma attended Wapato High School, graduating with the class of 1986. She took part in the Special Olympics and was awarded many times for her participation. She was crowned Miss Lady of Guadalupe in 1991. Alma was loved and cherished and was very blessed to have a long and happy life alongside her best friend, her father Macario Romero Sr., who sadly passed away just two weeks ago. His absence was too much for her heart to handle that she decided she would join him. They are together now and rejoicing with the Lord.
She loved writing, doing cross word puzzles, coloring and listening to Radio KDNA with her father, together they did everything. She was happy just going to town with her daddy. She was lucky to have had a sister that loved her like a daughter and if she could move heaven and earth for her she would, she will be terribly missed. We love you Alma, until we meet again.
She is survived by her mother Maria Elena Romero and one sister Guadalupe Morales (Jose Cruz) of Granger and two brothers Macario Romero and Raymundo Romero (Rachel) of Sunnyside. She is also survived by many nieces and nephews: Erika Aranda (Joey), Macario Romero III (Jessica), Ray Romero (Eleanor), Jessie-Anthony Romero, Samuel Romero, Elias Romero, Homero Romero (Mireya), Rachel Sophia Romero and Stephanie Romero from Sunnyside. Jose Cruz Morales Jr., Humberto E. Morales, Abel Morales and Adrian Morales all from Granger. Cassandra Romero, Isaac Romero (Janette), Alyssa Reyes (Christian), Joshua Romero (Jackie) from Tri Cities and Steven Romero (Elvira) from Benton City.
Alma was an active member of Our Lady of Guadalupe Catholic Church in Granger where she served as a Eucharistic minister for many years assisting next to Father Mario Salazar and Father Jesus Ramirez. She was loved and respected by all who had the privilege of knowing her.
Viewing and visitation will be from 8-9 a.m. Dec. 4, 2017 at Valley Hills Funeral Home, followed by the Rosary at 9 a.m. The Mass of Christian Burial will be held 11 a.m. at Our Lady of Guadalupe in Granger, followed by graveside services at Lower Valley Memorial Gardens in Sunnyside.
A celebration of her life will be held at Valley Hills funeral home after the burial.
Condolences can be sent to www.valleyhillsfh.com.
Valley Hills Funeral Home in Sunnyside is in care of all arrangements.