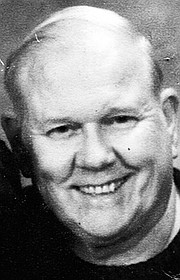 Daniel Joseph Tolick,79, of Grandview, passed away Thursday, Nov. 30, 2017, in Richland.
Daniel was born July 7, 1938 in Santa Maria, Calif., the only child of Joseph D. and Berniece (Arnett) Tolick.
In 1942, Daniel and his parents moved to Long Beach, Calif. He received his education in Long Beach.
Daniel served in the U.S. Navy on the USS Wiseman DE667 from 1956 to 1960.
On Feb. 23, 1963, he married the love of his life, Janice Fein in Long Beach.
In 1975, they moved to Grandview, where he resided until the time of his passing.
He worked at Hanford Nuclear Reservation as a pipefitter/plumber from 1977-2001.
Daniel enjoyed bowling, golfing, singing in the church choir, reading, doing crosswords, watching TV and sports, especially Norte Dame football.
He is survived by his children Stephanie and Jeff Reihs of Grandview, Steve and Melinda Tolick of Sunnyside, William Tolick of Richland, and Wendy Tolick of Grandview; grandchildren Joseph, Trevor, David, Michael, Lein, Nathaniel, Matthew, Samantha, Sherran and Ivan; and great-grandchildren Jesse and J.J.
He is preceded in death by his loving wife, Janice Tolick, and parents Joseph and Berniece Tolick.
Viewing and visitation was from 4-8 p.m. Monday, Dec. 4, 2017. A recitation of Holy Rosary was at 6 p.m. at Smith Funeral Home Chapel in Grandview.
Mass of Christian Burial will be at 10 a.m. today, Dec. 5, 2017, at Blessed Sacrament Catholic Church in Grandview. Burial follows at Outlook Cemetery in Outlook.
Those wishing to sign Daniel's online memorial book may do so at www.funeralhomesmith.com
Smith Funeral Home is in charge of arrangements.
More like this story