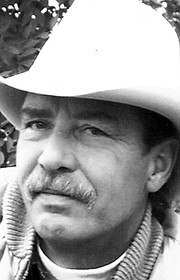 Kelly Tade, 57, passed away Dec. 3, 2017, at his home in Sunnyside.
He was born to John and Alta Tade on Sept. 1, 1960. He attended Sunnyside schools and graduated with the class of 1978. He married his high school sweetheart Karen Visser in July of 1980.

Kelly worked at K&U Auto Parts for several years. First as their delivery person, then at the parts counter and finally as head of their automotive paint department.

He went to work for the Roza Irrigation District in 1990. His first position with Roza was a job contracted through the Bureau of Reclamation to maintain the Prosser dam and fish facility. He later was one of Roza's pump mechanics. His career with Roza spanned 22 years.
He also had the fun adventure of being one the original hires for the very first Cabela Outpost in Union Gap. He worked at the gun counter where he got to share his passion and knowledge of firearms with Cabela customers.
Kelly had many hobbies and interests throughout the years. He drag raced his "orange" '69 "Cuda" during his high school years. He was very involved in the sport of trap shooting in the 80's. He was an avid hunter of pheasants, deer, elk and coyotes. He bagged a deer every year for over a 20-year period.

He loved spending time at his cabin on Chinook Pass. He always called it his "happy place". Many fond memories of spending his birthday weekend (Labor Day) with family and friends.
He also enjoyed working on gun restoration and repair. To him, guns were a work of art. He loved taking an ugly or abused gun stock and making it beautiful. He was very skilled at knife building and custom leatherwork. Many friends and family have been the recipients of his talent.
He is survived by Karen, his wife of 37 years, his daughter Erin and son Ryan and his brother James "Pat".
Family and friends are invited to celebrate Kelly's life with us. A graveside service will be held at 1 p.m. Saturday Dec. 9, at the Outlook cemetery. Following the service join us for food, fellowship and memory sharing at Kelly and Karen's home from 2 – 5 p.m.
Those wishing to sign Kelly's online memorial book may do so at www.funeralhomesmith.com.
In lieu of flowers, those wishing to honor Kelly's memory may contribute to Heartlinks Hospice & Palliative Care.
Smith Funeral Home in care of arrangements.