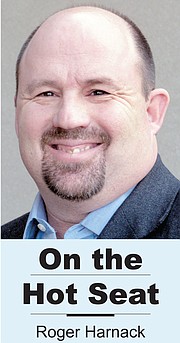 Isn't it ironic that Washingtonians take pride in residing in one of the most educated places in the nation, yet we allow our bureaucrats to reject basic science for personal political agendas and
feelings?
You likely guessed I'm talking about the state Department of Health's move this week to gather public comment on adding a third gender — X — to birth certificates. That's right, the bureaucrats in that agency believe you weren't born boy or girl and grew up to be man or woman. They think you can just be a non-gender "X."
Apparently, they didn't matriculate from a school in our state. Here, students need to have a basic understanding of health and biology to graduate.
When I was in school, boys and girls were taught about physical differences in gender in fifth- or sixth-grade. Today, some schools are teaching that to younger students.
When students get to high school, usually in the ninth-grade, they are required to take biology. That class further breaks down the differences in genders and gets into a detailed scientific explanation of reproduction of animals and plants, among other topics. Some school districts also offer a zoology class that deals specifically with animals and their reproduction.
Yes, our educational system, and science, note there are anomalies and birth defects that sometimes lead to a lack of a specified gender. But at no point in the scientific studies of gender, are we taught that how we "identify" makes us something different than who we are. The reason, it's not possible — at least not with today's science — to alter our genetic makeup.
Sure, there are plastic surgeries that allow people to physically alter their appearance. And yes, those surgeries may lead others to believe our real gender is something other than what it is. But genetically speaking, if you're born male, you'll always be male. And if you're born female, you will always be female. That's been the case since the first human being walked the planet.
This so-called "non-binary" idea is just a marketing ploy pushing us into a political agenda we neither need nor want east of the Cascades.
The agency claims its well within its power to put whatever it likes on a birth certificate. But just to give the appearance of public input, the agency had a public hearing in Tumwater earlier this week on the issue. Not surprisingly, those pushing the third-sex political agenda turned out to celebrate the idea. (The Olympia-Seattle corridor has a large alternative-lifestyle community.)
Had the agency planned the meeting and taken comments in rural Eastern Washington, the agency likely would have gotten an earful opposed to the idea. Here, basic biology is more important than a political agenda kowtowing to a chosen lifestyle.
While the state Department of Health has stacked the deck in favor of ending scientific understanding of gender, you can still have a say on the issue. The agency is taking comments online at https://fortress.wa.gov/doh/policyreview/. You can also email GenderChangeRuleMaking@doh.wa.gov or write to Washington State Department of Health, P.O. Box 47814, Olympia, WA 98504-7814.
Take time this weekend to write something short to the agency and let the bureaucrats in Olympia know what you think of the idea.
— Roger Harnack is the publisher and editor of The Daily Sun. Email him at rharnack@dailysunnews.com.