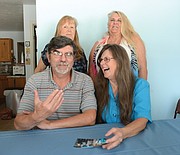 Editor's Note: The story that follows was published in the Lewiston Tribune. It's fitting for Christmas, the season of love. This is the first of four parts.
When you haven't seen your brother in 59 years — a lifetime of hoping and searching — expectations of meeting again on this Earth grow dim.
You learn to not dwell on it. You get on with life. But that dream, it just won't quit.
By age 9, Sharon Richardson of Lewiston was separated from both parents and all four of her siblings. Names changed, families moved, and information that could help reunite the children was kept from them - at least for a time. By their 20s, the four oldest children had found their way back to each other. But they weren't able to track down their youngest brother, Rex Bolen. Until this past spring.
Before April of this year, the last time the five siblings had been together was around 1957. They lived with their parents, Edward and Jewel Lauritsen, in Walla Walla at the time. Edward Lauritsen worked as a magnetic crane operator at a scrap metal yard, which supplied a number of the children's toys. Jewel Lauritsen was often out of the house. Richardson remembers the time only vaguely.
"We fended for ourselves quite a bit," she said.
Once when her mom was at the neighbor's house, Richardson was helping her younger sister get a still-hot frying pan from a shelf high above the wood stove to fix something to eat. Using her dress as a hot pad, Richardson reached for it, but the pan flipped over, spilling scalding grease over her hand. She was badly burned but afraid of the scolding she'd get by bothering her mom next door. She went over anyway and got help.
The family scraped by in this way until the day Jewel Lauritsen left, taking the oldest child, now Sandy Ellenberger, with her. Richardson was around 7 at the time. She remembers her father loading up the rest of the kids and leaving them at a home some distance away. Richardson's understanding was that he was going to get Ellenberger back, and she remembers crying and begging him to take her with him.
He didn't return. Whether he had really intended to come back, Richardson doesn't know.
But when he didn't retrieve his children, they ended up in state care.
Richardson didn't see him again until a court hearing. She was sitting on a hard wooden bench. He told the court he thought it was better for the kids to be adopted out.
Richardson's oldest sister was still living with her mom. Her older brother, Gary Lauritsen, was placed in a state-operated facility. He had mild special needs, although he was able to live on his own later in life and was married for a time. Richardson and her two younger siblings, Kathy Beeman and Bolen, were kept together and shuffled around to a couple of foster homes. Richardson described the caregivers they stayed with during that period as being "really mean" and recalled hiding out with her siblings in a woodshed.
The hope was for the three to be adopted together, but it's difficult enough to find a family willing to adopt one older child, much less three of them. At age 3, Bolen, was the first to be adopted, by a family from outside the Walla Walla area.
Beeman, a year younger than Richardson, was adopted next, by a family in Grandview, Wash. The family wished to adopt both girls, Richardson said, but it wasn't permitted. Someone in the state system decided the sisters should be separated because Beeman was said to dominate her sister. Richardson says the opposite was true.
The arbitrary decision was a painful one for the close-knit pair. The day her sister was taken away, Richardson sat by the window watching and crying, knowing she wasn't coming back.
Editor's Note: Tomorrow, the story of the separated family continues as Sharon and Kathy are adopted by Yakima Valley families and they start living separate lives.