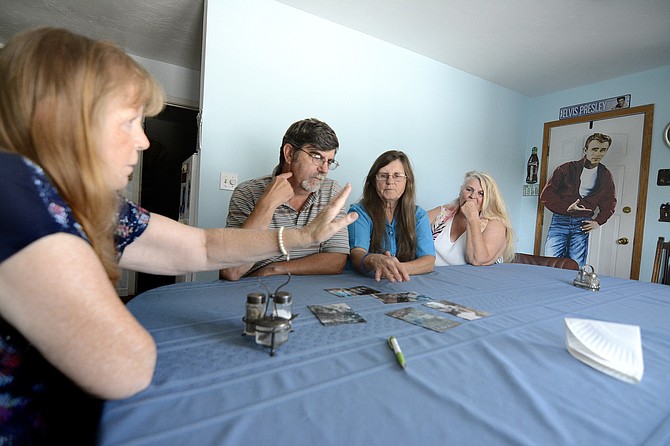 Editor's Note: The story that follows was published in the Lewiston Tribune a couple of weeks ago. It's fitting for Christmas, the season of love. This is the second of four parts.
In 1959, Walt and Helen Bargewell visited an adoption agency. They were there because Helen Bargewell decided she wanted a little girl for her birthday. The two had grown children from previous marriages.
They were drawn to a photo of a girl with blond hair and a sweet smile. That girl was Richardson, then 9. She met the couple and told them they could adopt her if they bought her a new bike. They agreed, and Richardson moved to their home in Yakima.
She got along well with her new dad, Walt Bargewell, and the two grew close. Though Helen Bargewell did her best, Richardson said, she could be controlling and verbally abusive.
From the moment Richardson entered their home, her new mom began removing every connection she had with her past. Her mother wanted her to forget everything that had happened, Richardson said, and to start fresh and build a new life as a Bargewell.
The woman who adopted Beeman wanted the sisters to maintain contact, but Helen Bargewell refused. When her sister's family would visit the Bargewell's bar and restaurant — her sister's favorite place to eat — Bargewell would send Richardson downstairs or out to a movie so the two wouldn't meet.
The few family mementos Richardson had left included a photo of her sister, that she would look at while hiding under her blankets and crying. When her mom found out, she took the photo away.
The girls had been given matching dolls, but Richardson's was taken away and given to her aunt. The aunt, who didn't approve of the forced separation, kept the doll and returned it to Richardson later in life.
Being so strictly cut off from her past forced Richardson to stop thinking about her family, and she eventually stopped missing them.
"You just shut it off because you're not allowed," Richardson said.
Things changed after Richardson's family moved to Seattle when she was around 12. At about age 15, a cousin told her where her sister lived and her new last name. Richardson wrote it down in hopes she would be able to find her someday.
When her mother discovered the information, she was angry; but the incident may have convinced her it was only a matter of time until the sisters found each other.
For whatever reason, she eventually relented and arranged for Richardson to meet her sister when she came to Seattle for an ear surgery. Richardson was 16, her sister was 15.
"I was really excited," Richardson remembered, but it was also a bit awkward. She and Beeman hadn't seen each other for seven years and were very different people.
Beeman wore makeup and fixed her hair nicely; Richardson didn't. Beeman was quiet, and the more talkative Richardson couldn't get much out of her.
Richardson now realizes her sister was just more reserved, but at the time she didn't know what to make of it.
"We didn't know each other," Richardson said.
During the visit, the two went to downtown Seattle and got matching outfits. Richardson doesn't remember writing her afterwards, but soon after Beeman joined them on a family vacation, and the two became close again.
When Richardson was a sophomore in high school, her adopted dad died. At the end of the school year, Helen Bargewell and Richardson moved to Lewiston.
Now just three hours from her sister in Grandview, Richardson remembers numerous trips to visit Beeman. The two eventually decided to find their biological parents.
Richardson didn't remember much from her childhood, but Beeman recalled visiting an aunt in Waitsburg. The two tracked her down and, through her, they found their father.
EDITOR'S NOTE: Tomorrow in the story of the separated Rex hears for the first time, as a 9-year-old that he may be adopted.