OLD-TIMER'S VIEW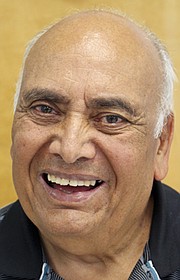 Every year I hear the question, "When was your best Christmas?" asked on TV shows, movies and even among friends.
I think about it, but I never come up with an answer. It could be because I'm not a fan of Christmas, or it could be because I love Christmas and can't choose one over the others.
It's sort of like the song, "White Christmas" I sing along every time I hear it on the radio, but I don't really want snow like we had last year.
I can't say I've had a best Christmas. I think it's really because they run together.
I don't remember what we did from one Christmas to another. Pat, my wife, is the opposite. She can tell you which year which kid got which gift.
We've had some little Christmases, where it was just the kids, Pat and me.
We've had a lot more big Christmases, in which we celebrated with the extended family.
If I really think on it, I'd probably have to say my best Christmas was the first one when I could buy gifts for everyone on my list and not worry that I wouldn't be able to pay bills.
That happened sometime after the kids were on their own, when I learned how expensive it really had been to raise them.
Although I can't pick out a best Christmas, I have a couple that were memorable. The first one was really big. The second was really small.
It was small because Pat and I were traveling. We had gone to California for some time in the sun. We were just past newlyweds, and we had no kids.
The year was 1974, five months after we married. I remember because Ohio State was set to play USC in the Rose Bowl on Jan. 1.
Pat's an OSU fan, and I like USC. The teams had split the previous two Rose Bowls. We couldn't include the game in our vacation plan, but we did go to Disneyland.
We enjoyed the day, and the light parade was out of this world. The Ohio State and USC marching bands were in the parade we attended.
They were huge groups that snaked their way through the parade route. Then came the Pasadena City College band. It dwarfed USC and Ohio State.
A few days later, USC nipped Ohio State, 18-17 on a late scoring pass from Pat Hayden to J.K. McKay.
The first memorable Christmas happened sometime between 1951 and 1954, when we lived on Dekker Road in a house that belonged to John McMinimee.
My Uncle Aurelio and Aunt Carmen brought their family over the afternoon of Christmas Eve. There were about 12 kids all together. We played outdoors while the adults visited and cooked.
That evening, we had our fill of tamales, beans and rice. Then it was off to bed.
"If you're not asleep, Santa won't come," the adults said.
It took a while to fall asleep because were excited. Every once in a while, an adult would yell at us in second story of the house. upstairs room. We'd quiet down, then we'd start again.
We finally managed to fall asleep. But just after midnight, I woke up thinking about Santa.
I couldn't help myself. I tip-toed over to the stairs to take a peek.
Santa had not arrived yet. All I saw were two men, Uncle Aurelio and dad, lounging. I went back upstairs concerned that Santa would be upset with me and not stop at our house.
I managed to fall asleep again. When all of us got up at about 5 a.m. we rushed down the stairs to find of row of yellow dump trucks for the boys, with a doll in each truck bed for the girls.
On Christmas day we played and played. It was a nice day outdoors, and the boys were able to enjoy their dump trucks.
I don't play with toy trucks now, but that day was perfect.