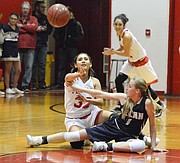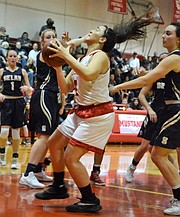 PROSSER — The Prosser Mustangs girls basketball team battled from behind to win last night's game against Selah, 62-53.
The Vikings held the Mustangs to just 6 points in the first quarter and outscored the host team, 13-11, in the second stanza for a 25-17 halftime lead.
But, the Mustangs scrambled and fought their way through the third stanza to come out on top, 30-29, with just 2:37 before the intermission.
They didn't give up, fighting the Vikings for every possession and every basket through the fourth quarter.
Asia Olivarez and Brooke Wheeler fouled out of the game before the clock ran out. So, too, did Selah's Kylie Wilkey and Kayla Snodgrass.
Wheeler, however, was responsible for collecting 12 boards and 9 points before taking the bench. Olivarez was responsible for 5 steals and 10 points.
A team high 19 points were scored by Marissa Cortes, 6 from beyond the 3-point arc. She was 6-for-9 from the charity stripe.
Abby Rodriguez also scored 10 points for the Mustangs.
Sunnyside Christian
Also playing at home last night were the Sunnyside Christian Knights.
The Knights were undefeated entering the game, but lost their first match-up, 47-51, this season to Pomeroy.
The Knights' Alyssa Martin and Sailor Liefke combined for 31 points.
"We were up at halftime by five," Knights coach Al Smeenk said.
But poorly executed shots in the third led to the loss, he said.
"It was a great game — we needed it," Smeenk said. "The best team won."