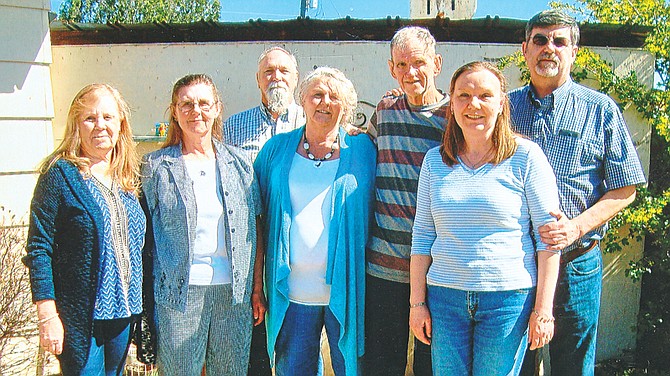 Editor's Note: The story that follows was published in the Lewiston Tribune. It's fitting for Christmas, the season of love. This is the fourth of four parts.
A couple of months later, Beeman was talking with a grandchild who asked how the search was going. The discussion inspired her to try yet another online search, now that Beeman had a full name to work with. It seemed like a long shot since most people have traded in landlines for cell phones, but she was in for a happy surprise. A person with the same name and age range was living in the Seattle area.
Beeman told Richardson what she'd found. She was scared to initiate contact, but Richardson urged her to at least call and leave a message.
"It was a little unnerving," Beeman said.
She picked up the phone and dialed the number.
At his home in Puyallup, Bolen had stepped outside to do some yard work.
Inside, the ringing phone went unanswered. Relieved, Beeman left a message that she was looking for a long-lost brother and wondered if he might be who she was looking for.
When Bolen came inside, he saw he'd missed a call. He listened to the voice message. He was doubtful at first, but intrigued. He called back.
Fifteen minutes after leaving the message, Beeman's phone rang. It didn't take long for the two to confirm that they were indeed brother and sister.
"It's bringing me to tears right now, just remembering that part," Beeman said. "It was amazing, I didn't expect it to happen. I was lucky to find my sisters, and I just thought that (finding my brother) wasn't going to happen after all this time."
Beeman and Bolen talked for two hours, until the battery on Bolen's phone died.
As soon as she got off the phone, Beeman called Richardson.
"I said, 'You love me right? Well, now you really love me, because I just found your brother,' " Beeman said.
Over the next couple of days, Richardson talked to Bolen, as did Ellenberger, the eldest sister, who now lives in Stanfield, Ore. Their conversations lasted more than an hour. Bolen had thought he had two sisters - now he had three.
Even though he had no recollection of ever talking to them before, Bolen said it was like they'd known each other all their lives.
"I was blown away. Talking to them, it felt like I'd talked to them earlier that week," he said. "I don't remember anything (prior to adoption), but it was like we'd never been apart."
Soon after the initial connections were made over the phone, the siblings made plans to meet. Both parents had since died.
In April, all five siblings were reunited - together for the first time since 1957. They met at Beeman's home. The meeting lasted longer than they had planned. There was a lot of talking, Richardson said.
To celebrate the occasion, the siblings all exchanged gifts. Bolen and his wife, Rosie Bolen, presented each with an angel of hope figurine.
"They handed it to us and said, 'Thank you for not giving up,' " Richardson said.
Both Beeman and Bolen doubt other people can understand what it's like to find a family member after so many years unless they've experienced it themselves. Beeman said it was like having an empty hole in you somehow - and that in reuniting, it's like having the hole filled up.
"It was a very fulfilling moment," Beeman said.
As for Bolen, "I can't explain," he said. "I don't have words for it."
He compared the experience to television shows that portray similar types of reunions among family members - there's just such a wide range of emotions, he said.
Richardson, too, was initially nervous about making contact. She had no idea what her brother would be like, if he would want them in his life - and if she would want him in hers.
"I told myself, 'At least if it doesn't work out, it'll be closure,' " Richardson said. "But it turned out the opposite."
The siblings stay in regular contact through texting.
"It's amazing. It's like we're old friends," Richardson said. "He calls me 'Sis'."
Although it was a long, lonely road, Richardson doesn't regret the way things panned out.
"I'm thankful for my life lessons. It brought me full circle to see how God had his hand on me," she said, "opening my heart and eyes to the one who loved me so unconditionally that he died for my sins."
She's grateful, she said, to be born twice and adopted twice - first at age 9 into her second family and then at 26 "into the family of God."
Now her original family has been restored, too.
In September, Richardson visited Bolen in Puyallup, and then he and his wife drove her back and visited her in Lewiston.
Bolen's wife has since told Richardson that he has changed since finding his siblings; he's more talkative and open than before, she said.
That first weekend they met, Richardson remembers Bolen telling them the three best moments of his life.
He said: "Marrying my wife, having my kids and finding you guys."