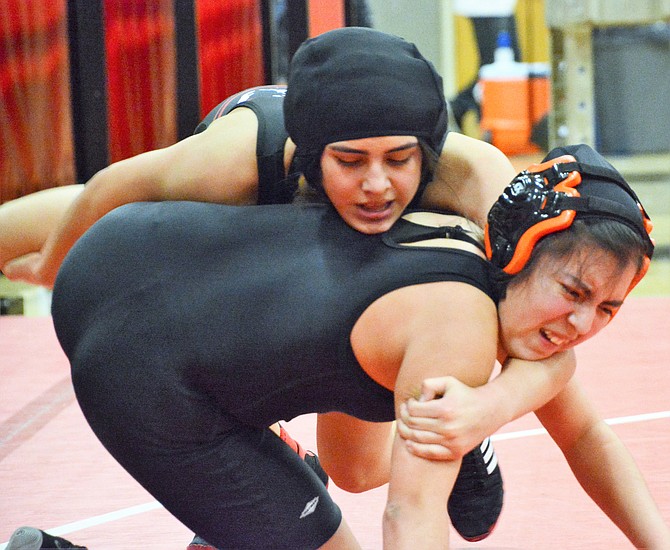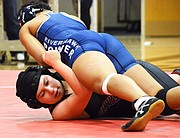 SUNNYSIDE — Wrestlers from throughout the region joined the Grizzlies on the mats at yesterday's Mix and Match.
Boys and girls competed, grabbing matches within their weight classes.
Among them were Mabton's seven girls and one boy.
Angel Reyna won two of her three matches in the 115-pound classification. She pinned Sunnyside's Estreyita Nunez in 1:20, lost by pin in 1:15 to Richland's Samantha Dufault and won a 12-2 major decision over an opponent from Pasco.
Also in the 115-pound weight class was Daisy Padilla. She didn't have as good of a showing, losing all three of her matches via pin. Rylynn White pinned her in 4:30, Elizabeth Fraga of Connell subdued her in 1:05, and Alana Newborn of East Valley (Yakima) ended the match via pin in 2:10.
Aaliyah Delgado, 145 pounds, wrestled two opponents and lost to both. She lost a 6-1 decision to a Wapato competitor and the statistics for her second match weren't available to coach John Kilian.
There are also two Vikings who competed in the 155-pound weight class.
Jasmyn Prieto lost all three of her matches via pin. She was subdued by an East Valley opponent in 2:10, pinned in 45 seconds by a Wahluke opponent and fell to Diana Tello of Wapato in 2:45.
Victoria Valencia also lost all three of her matches. She lost a 14-4 major decision to a Richland opponent, was pinned by Tello in 1:10 and was pinned in 3:25 by Julyssa Valdivar of East Valley.
Sandra Urbina dropped from 190 to 170 pounds and won all three of her bouts to improve her season record to 9-2.
She won a 5-1 decision over Richland's Taylor Booker, an 8-1 decision over Rosa Salcedo of Connell and a 6-3 decision over Emma Andrew-Jeski of Connell.
Also improving her season record was 190-pound Reyna Huecias. She is 11-2 with three wins yesterday.
She won a 5-0 decision over Leslie Perez, pinned Nasiele Hernandez of Richland in 1:10 and subdued Anna Cardoza of Connell in 1:07.
The only Vikings boy — 285-pound Jesus Mata — was 2-1 at the competition.
He lost a 5-0 decision to Elijah Roylance of Othello, but won an 8-3 decision over Kayden James of Richland and a 2-1 decision over Zane Andrew-Jeski of Connell.
Not all names were made available to those tracking the Sunnyside JV bouts, either.
Reid Weaver defeated two of his 106-pound opponents via fall. He won the first match in 6:22 against a Connell opponent, and the second in 3:26 against Shane Worlund of Chiawana.
He lost the third match to East Valley's Leo Garcia via a 9-0 major decision.
At 113 pounds, Sunnyside's Michael Michel defeated Jordan Land of Quincy via pin in 1:11, defeated Miguel Amezola of Othello via a 15-1 major decision and pinned a third opponent in 6:29.
Also at 113 pounds, Joziah Sandoval of the Grizzlies defeated T. Ross via a 54 second pin, won a 2-0 decision, and took 19 seconds to pin Nico Stanford of Richland.
Sunnyside's Enrique Amaro-Jasso (120) lost two of his three matches. He lost a 9-8 decision to Joel Corona of Chiawana, lost a 3-2 decision to a Pasco wrestler and pinned his third opponent in 6:05.
Miguel Nieto of Sunnyside, also at 120 pounds, defeated an Othello opponent via pin in 3:51, defeated Jose Buenrostro of Quincy via a 5-3 decision and pinned Ramon Pahon of the Huskies in 6:10.
The only 126-pound competitor for the Grizzlies — Marcus Torres — won all three of his matches. He defeated Luis Partida of Davis via a 4-2 decision, won an 8-6 decision in overtime against Jaxon Rocha of Othello and won his third bout against an Othello wrestler via default.
Three competitors for Sunnyside wrestled in the 138-pound class — Roberto Bravo, Jaden Villalobos and Moises Zesati.
Bravo lost a 12-2 major decision to Oswaldo Perez of Quincy and a 6-2 decision to another competitor.
Villalobos pinned Angel Valencia of Pasco in 1:46, pinned Nathan Gardener of Othello in 2:59 and lost an 8-3 decision to Darius Grogan of Chiawana.
Zesati pinned Davis Soto of Zillah in 1:27, pinned Isai Lopez of Othello in 1:25 and lost a 3-2 decision to Oswaldo Perez of Quincy.
Ethan Weaver of the Grizzlies won two of his three matches in the 152-pound class. He pinned Rosendo Villanueva of East Valley in 40 seconds, lost a 7-0 decision to Salvador Chaverin of Quincy and won a 5-4 decision over Brian Guadarrama of Quincy.
At 170 pounds, Elijah Lopez of Sunnyside was pinned in 1:13, lost a 10-5 decision and was pinned in 1:13.
Teammate Issac Rodriguez pinned Elijah Hernandez of Richland in 4:52, won a 7-0 decision and won a 9-2 decision.
Nathan Zambrano, Ezrah Martinez and Clayton Robert, all at 182 pounds, split their matches. Zambrano lost his only bout, Martinez won a 5-1 decision and Robert was 1-2.
Nathan Martinez was 2-1 and Steven Estrada was 3-0 in the 195-pound bouts. Estrada won a major decision, a decision and fall.
Ethon Weron, Sunnyside's 220-pound wrestler, won two of his three matches. He pinned the two opponents against whom he won and lost the other bout via pin in 3:33.
There weren't any 285-pound Grizzlies, and girls results were not made available as of press time.