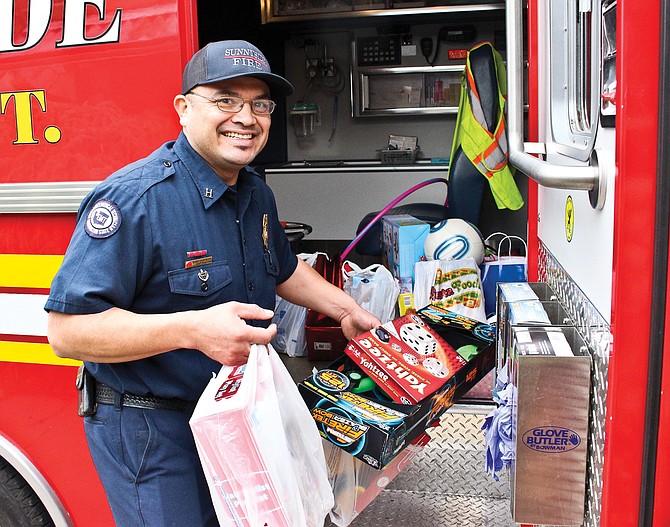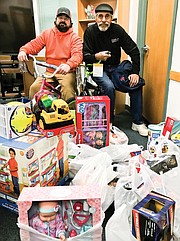 That extra toy in the shopping cart not meant for one's own child is being put to good use by the local fire and police departments this Christmas holiday.
Thanks to the generosity of local golfers and Nouvella Club members, 25 more families will have presents under the tree for their little ones.
Thursday, Sunnyside Fire Captain Tony Castillo shared with the Nouvella group what the dolls, games and teddy bears mean to people they would never see.
"I'd like to take you all with me when we go to deliver these gifts," Castillo said. "But we wouldn't all fit in the ambulance,'
Castillo assured the members that their donation means "…so much to the children we help."
He told of a family he met last year whose father had built a small shelter for a tree that wouldn't fit inside the family's trailer.
"He set the tree with lights outside for the children," Castillo said.
"When we delivered the presents, there were a lot of tears," he said. "I think they were tears of joy."
In that same neighborhood, a few trailers over, another family of children came running outside in the snow in bare feet, asking 'where's ours, where's ours'," Castillo said.
"We couldn't leave then without," he said.
"Thanks to the donations your group provided, we were able to put together presents for this family we didn't know were in need," Castillo said.
The Black Rock Creek men's golf club also joined in the giving mood, collecting more than 70 toys as part of its long-standing support of the toys for tots' program.
Club President Jeremy Stegeman said the members at the local golf course donated funds raised at the club's last tournament to purchase some of the toys.
"Other toys were donated by members and other golfers," he said.
Stegeman, who has been the club leader for the past four years, said the club has been donating to the toy drive for years.
Stegeman said the toys are then given to the Sunnyside police and added to what the police have collected to spread the joy.
Last week, the Noon Rotary Club collected food, toys and clothing for another 20 families selected by the Sunnyside School District home visitors for inclusion in spreading the spirit of the holiday.
Large groups and small groups have all taken time to acknowledge there are many in need of help during the holidays. Even the students at the Extra Mile Student Center of Grandview purchased items for its adopt-a-family for Christmas. The students purchased toys for children in the Grandview School District, center director Gene Iwami said.

"We're thankful for the hearts of people who give. We know the recipients appreciate that someone out there cares," Castillo said.